As part of the Team of the Season So Far promo, EA SPORTS have released special cards for Aymeric Laporte and Ollie Watkins in FIFA 20 Ultimate Team, and we've got the cheapest solutions and Objectives guide you need to unlock both.
With Team of the Season So Far having kicked off in FUT 20, it looks like EA are going all out in giving players chances to unlock untradeable players via Objectives and SBCs.
After releasing three untradeables on day one of the promo, another two have been rolled out on April 25 – a Community Champions card for Manchester City defender Aymeric Laporte, and a TOTSSF SBC for Brentford striker Ollie Watkins.
All class, both on and off the pitch. We recognize Aymeric Laporte for his thoughtfulness during these difficult times as our first Community Champion. Objectives now available in #FUT20 pic.twitter.com/bPYO4MMHR0

— EA SPORTS FIFA #stayandplay (@EASPORTSFIFA) April 25, 2020
[ad name="article1″]
Laporte & Watkins TOTSSF in-game stats
Laporte's card isn't technically a Team of the Season; it's actually a brand new type of special item called Community Champions that recognizes the Frenchman for "his thoughtfulness during these difficult times," in addition to his on-field achievements.
While not inflated as much as they would have been if it were a TOTSSF item, the in-game stats are still more than decent, especially the defending category, which is borderline endgame level.
As for Watkins, his card looks spectacular if you're willing to ignore the three-star weak foot and skill moves. Lightning pace, ruthless shooting, agile dribbling, and rock-solid physical, the Englishman's TOTSSF item is everything you want in a striker.
[ad name="article2″]
Laporte Community Champions Objectives
There are four Objectives that you'll need to complete in order to unlock this Laporte card, all of which focus around Division Rivals. Each requirement also offers its own pack reward and/or XP boost.
Basque Beginnings: Score an outside of the box goal in two separate Rivals matches using LaLiga players
Defensive Delivery: Assist a goal with a through ball in three separate Rivals matches using defenders
Premier Placement: Assist a goal with a cross in five separate Rivals wins using Premier League players
French Foundations: Score in three separate Rivals wins using French players with three-star weak foot maximum
Here's a video for some tips on how to complete these Objectives and obtain the card as quickly as possible.
[ad name="article3″]
Watkins TOTSSF SBC requirements, solutions, cost
Watkins' SBC has only one squad building component – an 85-rated team that requires an In-Form or TOTW Moments item. FIFA database website FUTBIN estimates the current cost to be around 90,000 coins on PS4 and Xbox One, and 100,000 on Origin PC.
Players from England: Min 1
In-Form or TOTW Moments players: Min 1
Team overall rating: Min 85
Team chemistry: Min 75
Players in squad: 11
Here is the current cheapest solution that doesn't require any loyalty or position-change cards.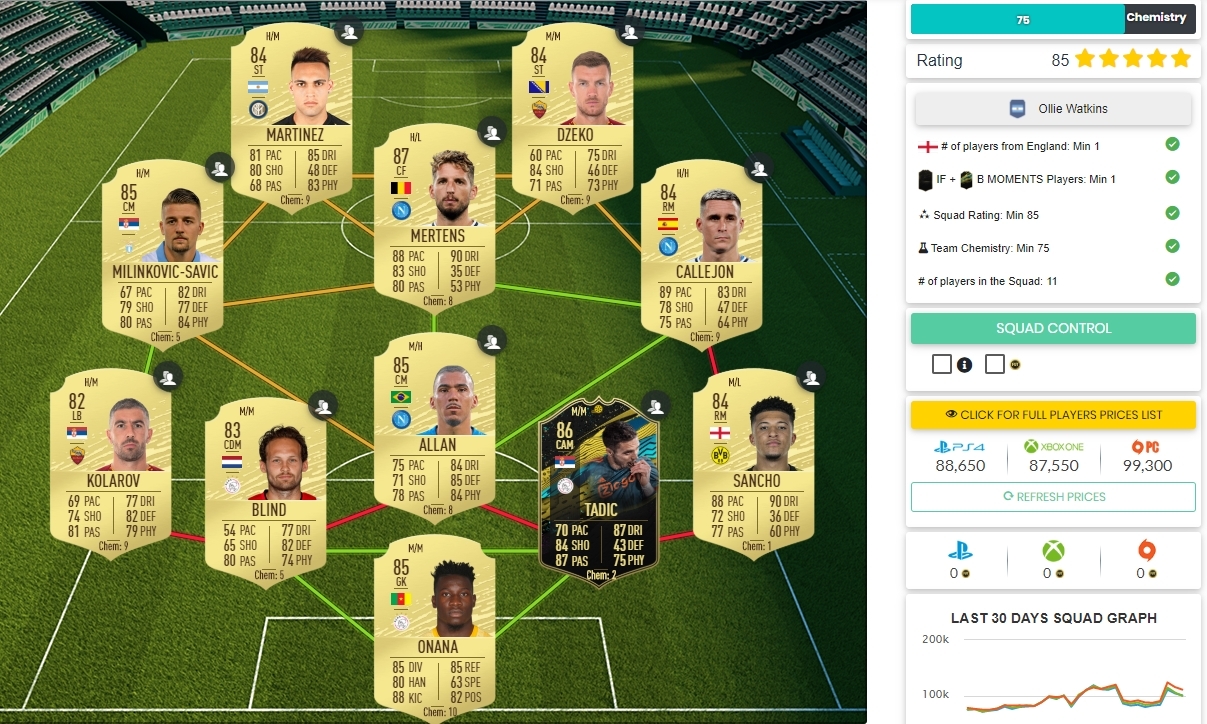 Keep in mind, of course, that the volatile nature of the FUT market means that player prices are always fluctuating, so the cost of doing this SBC could go up or down depending on when you attempt it.
Make sure to follow us on Twitter @UltimateTeamUK for all FIFA 20 news, TOTSSF updates, SBC guides, and more.