EA SPORTS has revealed the first Team of the Season so far for FIFA 20, announcing the community team that fans had been able to vote on as well as the EFL TOTSSF squad.
With the exception of the Belarusian Highest League, world football is on pause due to the ongoing health situation – throwing a huge monkey wrench into EA SPORTS' plans for FIFA Ultimate Team. They had a workaround for Team of the Week with the TOTW Moments, but with Team of the Season time upon us, they've had to get creative again.
As a result, they announced that Team of the Season So Far was being introduced to FIFA 20 Ultimate Team. The first squad, as it usually is with TOTS in FUT, is the community squad. Though, this year, the vote was widened as FIFA fans a whole host of players to vote for on both FUTWIZ and FUTHead, culminating in a pretty powerful squad.
[ad name="article1″]
FIFA 20 Community Team of the Season so far squad
Players had the chance to vote on established players like Gerard Pique, Thibaut Courtois, Thiago Alcantra, and Diego Godin – as well as rising stars like Dominic Calvert-Lewin, Joe Gomez, Marcus Thuram, and Moussa Dembele.
As teased, the highly-rated squad was announced by EA SPORTS on their EASPORTSFIFA Twitter account on Friday, April 24 at 6 pm GMT – showing that fans did, indeed, vote for a wide selection of players that had been on the shortlist.
[ad name="article2″]
The announcement time means that the players are already in packs, meaning that the race will be on to secure those incredible Team of the Season so far cards and get them in lineups. They will, also, play a part in the FUT Champs red player picks packs too – if you don't want to splash out.
Though EA hasn't, yet, announced what will follow the community squad, they are likely to sweep through the world's top leagues – finishing with either the Premier League or La Liga.
We'll just have to wait and see what comes next, but for now, try and bag some of these community squad stars.
FIFA 20 EFL Team of the Season So Far squad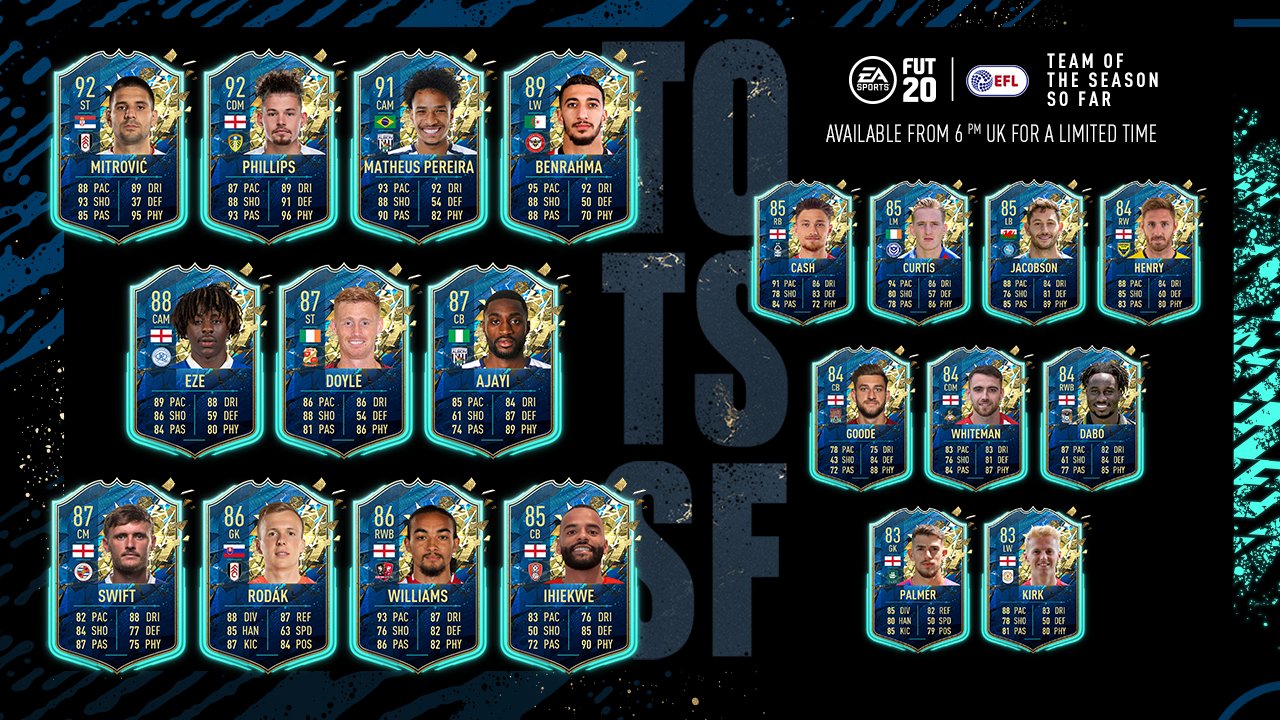 [ad name="article3″]
TOTSSF SBC & Objectives – Icardi, Thuram, Toney
As is usually the case with promos in Ultimate Team, EA SPORTS have released three untradeable cards for this first TOTSSF squad – a 90-rated Mauro Icardi, 89-rated Marcus Thuram, and 88-rated Ivan Toney.
Icardi's card can be unlocked through an SBC that's not at all expensive considering how good the stats look; you can check out the requirements, cheapest solutions, in-game stats, and more here.
20 goals in all competitions in his debut campaign in France.

Community #TOTSSF SBC Mauro Icardi is in #FUT20 pic.twitter.com/UVsLdWpKIK

— EA SPORTS FIFA #stayandplay (@EASPORTSFIFA) April 24, 2020
As for Thuram and Toney, they're both available via Objectives, and while they may take a little effort and time to unlock, you can get two decent high-rated cards for zero cost.
Check out our TOTSSF Objectives page for all of the requirements, in-game stats, and the fastest way to unlock both cards.
Setting the back of the nets on fire ?⚽️

Community and EFL #TOTSSF Marcus Thuram and Ivan Toney Objectives are live in #FUT20 pic.twitter.com/XYYlS6ddmz

— EA SPORTS FIFA #stayandplay (@EASPORTSFIFA) April 24, 2020
Icardi's SBC is only available for a few days before expiring on April 29, while the Objectives for both Thuram and Toney will remain active for a full week before they too disappear on May 1.