The first official competitive showcase of Valorant is upon us in the form of a Twitch Rivals event, and we've got everything you need to keep up with all of the action.
Valorant has been one of the most highly-anticipated games in recent memory as it marks Riot Games' entry into the first-person-shooter genre.
As part of their marketing effort, Riot partnered up with Twitch to not only release beta codes through the platform's top channels, but also to host a gameplay event featuring some of the biggest streamers.
Jett is the newest character revealed for #Valorant, and her abilities are a force to be reckoned with ? pic.twitter.com/YM2cvMCNnM

— Valorant News (@ValorantUpdates) April 2, 2020
[ad name="article1″]
When is the Twitch Rivals Valorant Showcase?
This Twitch Rivals event is split in two – one featuring streamers from Europe, Middle East, and Africa (EMEA) and the other for North America.
The EMEA half will take place on Friday, April 3 at 10 AM PT / 1 PM ET / 7 PM CEST, while the NA portion will kick off at 1:30 PM PT / 4:30 PM ET / 10:30 PM CEST.
It will be broadcast live on the official Twitch Rivals channel, which we've included below for your convenience. The stream will "jump from perspective to perspective to showcase the full match."
[ad name="article2″]
Players and Teams
There are 10 teams in total competing at this event, each composed of five streamers since Valorant is a 5v5 game. Six of the teams are from EMEA and four from North America.
Participating are some of the biggest names on the platform, including Timthetatman, summit1g, DrLupo, Cloakzy, Forsen, Gotaga, Annemunition, and much more.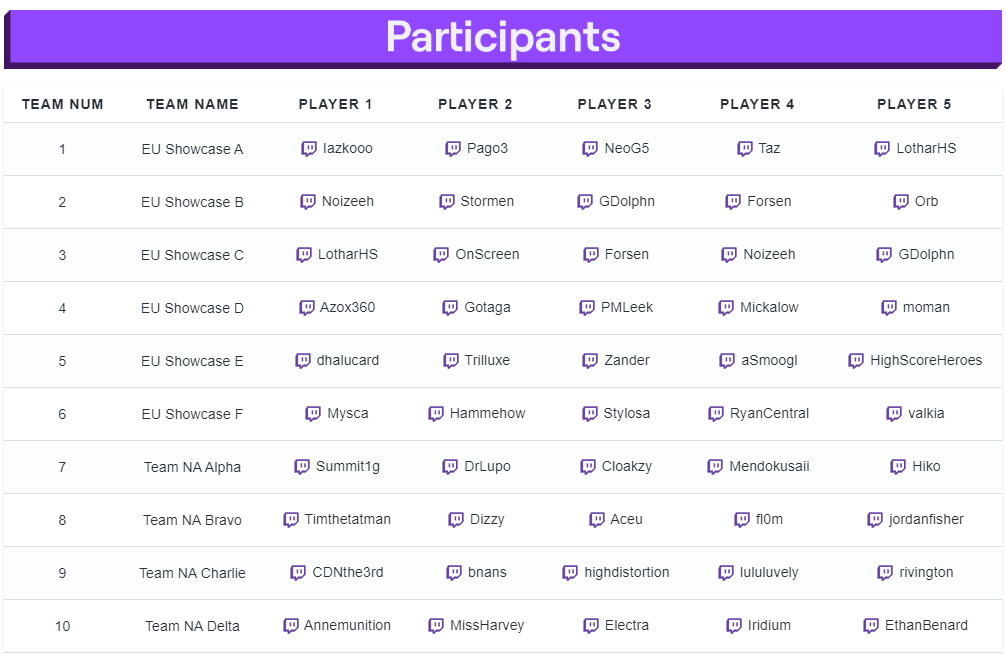 Schedule and Format
There will be six matches shown during Twitch Rivals Showcase; the ones involving EMEA teams are best-of-one while the NA ones are best-of-three. It's important to note that these matches were already played and recorded over the previous weekend, and the footage will be broadcast with live commentary for this event.
TIME (APPROX.)
TEAM 1
RESULTS
TEAM 2
10:00 AM PDT / 19:00 CEST
EU Showcase Team A
Izakooo
Pago3
NeoG5
Taz
LotharHS
0:0
EU Showcase Team B
Noizeeh
Stormen
GDolphn
Forsen
Orb
10:40 AM PDT / 19:40 CEST
EU Showcase Team C
LotharHS
OnScreen
Forsen
Noizeeh
GDolphn
0:0
EU Showcase Team D
Azox360
Gotaga
PMLeek
Mickalow
moman
11:20 AM PDT / 20:20 CEST
EU Showcase Team E
dhalucard
Trilluxe
Zander
aSmoogl
HighScoreHeroes
0:0
EU Showcase Team F
Mysca
Hammehow
Stylosa
RyanCentral
Valkia
12:00 PM PDT / 3:00 PM EDT (Best of 3)
Team NA Alpha
Summit1g
DrLupo
Cloakzy
Mendokusaii
Hiko
0:0
Team NA Bravo
Timthetatman
Dizzy
Aceu
fl0m
jordanfisher
2:00 PM PDT / 5:00 PM EDT (Best of 3)
Team NA Charlie
CDNthe3rd
bnans
highdistortion
lululuvely
rivington
0:0
Team NA Delta
Annemunition
MissHarvey
Electra
Iridium
EthanBenard
[ad name="article3″]
Twitch Rivals Valorant Showdown
Following this event, there will be another Twitch Rivals Valorant competition, this time called a Showdown, which will take place on Tuesday, April 7.
Unlike the Showcase, Showdown will be a bit more competitive, featuring full three-map series using warmups and custom matchmaking rulesets. We will bring you a full coverage hub of that tournament at a later date.