A new type of the Burst Assault Rifle appears to be coming to Fortnite: Battle Royale, becoming the first new weapon added during the current Season 4 of the popular video game.
An announcement screen in the pregame menu shows the new Burst Assault Rifle with a blue background and is noted to be coming soon.
Part of the reason Fortnite has become one of the most popular video games in recent memory is that developer Epic Games have shown dedication to paying attention to detail. 
Epic have consistently added new items, adjusted mechanics, and worked to improve the game to keep the experience fresh and fun.
In the announcement screen, the new item is captioned with this description:
Burst through the competition with a new Epic and Legendary rarity assault rifle.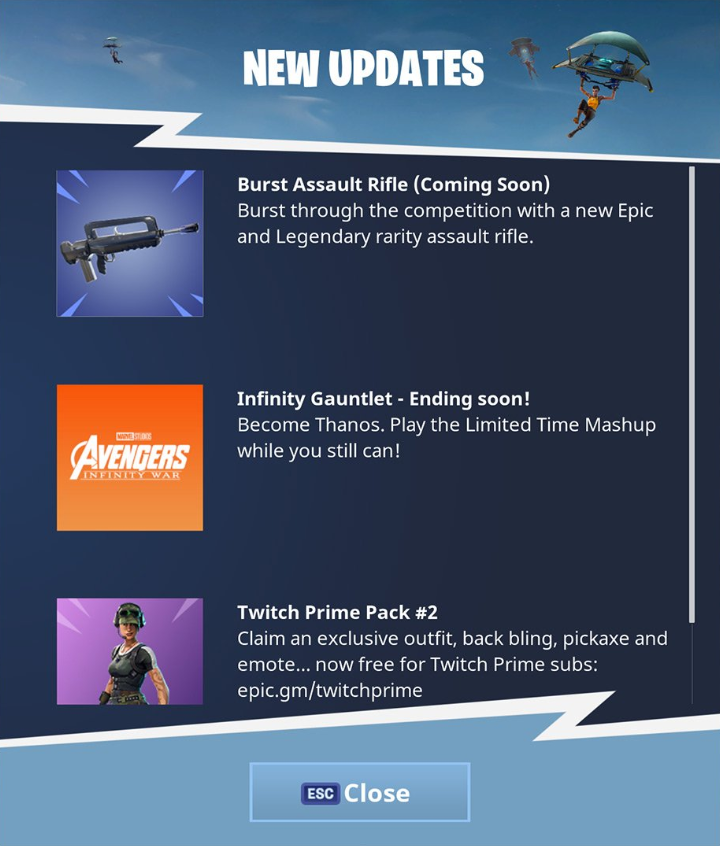 While a Burst Assault Rifle already exists in Fortnite: Battle Royale, the differences in design and rarity indicate that this is a complete new weapon.
The current Burst AR comes only in Common, Uncommon, and Rare rarities, making this new weapon the first of its kind to come in Epic and Legendary varieties.
While there is no officially listed release date for the new Burst AR, it appears that it will be added to the game as part of the v4.2 update that is scheduled to launch on May 15th at 1 AM PDT.
Fortnite hinted at the new weapon and release date prior to the official in-game announcement when they said 'Burst onto the battlefield, tomorrow" in their initial tweet about the v4.2 update.