YouTube is under fire for a now-deleted tweet where they mocked their own content creators for padding out the length of their videos, a move that is in many cases a direct result of the site's own monetization policy that's been widely criticized by the community.
It's no big secret that in order to make money on YouTube videos, creators have to play by the website's rules in order for their videos to qualify for that sweet, sweet revenue.
Things like profanity, subject matter, and the length of videos all affect how much money, if any, can be made on a certain video, and there are a lot of people out there who aren't too fond of how the system works.
This is probably why a recent post from the site's official Twitter account that mocked YouTubers for dragging out the length of their videos, a common strategy used to take advantage of the site's monetization incentives, was quickly deleted.
After just two hours in the social media sphere, the tweet was taken down by YouTube, but that didn't stop screenshots from being taken and distributed throughout the internet for all to see. If you've spent any amount of time on YouTube at all, there's a good chance you can recall an example of exactly the types of videos this tweet was referencing.
Usually, it's no big deal to skip past the few minutes of ads to get to the actual content we clicked for, but YouTube mocking creators who are only playing by the rules the site itself set up, seems like a really low blow.
Matthew Ball, former Head of Strategy at Amazon Studios, had a lot to say on the matter, going on a massive Twitter rant that expressed a lot of the same sentiments many others were also posting.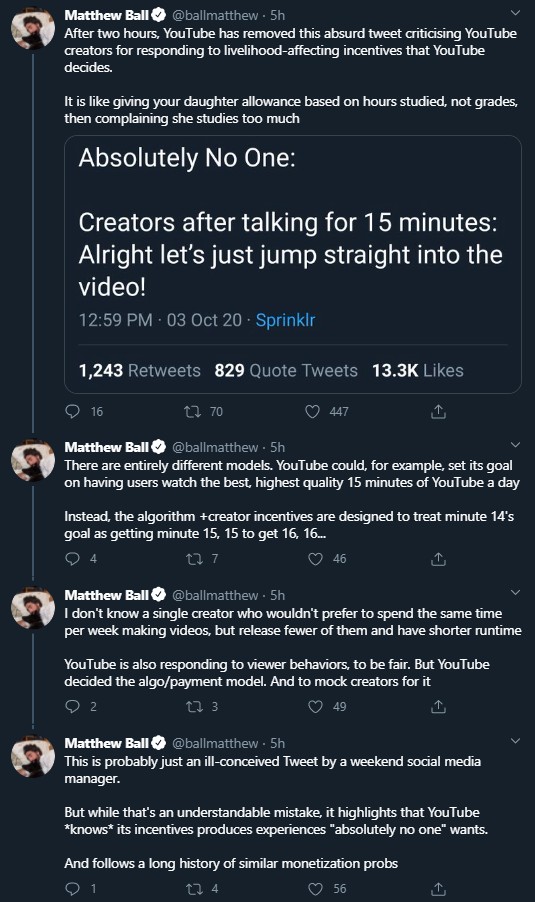 "It is like giving your daughter allowance based on hours studied, not grades, then complaining she studies too much," he wrote. "I don't know a single creator who wouldn't prefer to spend the same time per week making videos, but release fewer of them and have a shorter runtime."
Others added that while the tweet was probably put out without much thought going into it, there's clear evidence that those who run the platform are well aware that their incentives for making money lead to types of videos that "absolutely no one wants."
It's far from the first time the site's monetization guidelines have come under fire and caused a stir, but based on how YouTube has (or hasn't) responded to concerns about the system in the past, we wouldn't say change is exactly right on the horizon.