The NBA 2K League is finally underway as the league's first ever season has tipped off on March 1st.
The first tournament of the season is being called 'The Tipoff', and it will feature the 17 league teams separated into four groups. After group play, the top 8 teams advance to the Playoffs, where there is a $100,000 prize pool waiting to be won.
[ad name="article1″]
Announced in 2017, the NBA 2K League is the first competitive esports league featuring the popular NBA 2K game and is a joint venture between the NBA and NBA 2K publisher Take-Two Interactive.
The league features 17 teams, all representing actual NBA franchises, that will play for a $1 million prize pool over the course of a 15-week regular season, playoffs, and three additional tournaments.
[ad name="article2″]
The Tipoff is set to be played from May 1st-5th, with the Group A teams playing on the first day, followed by Group B on the 2nd, Group C and D on the 3rd, and Group D will finish on the 4th. The Playoffs of the tournament will be played on May 5th.
Playoff Scores and Schedule – May 5th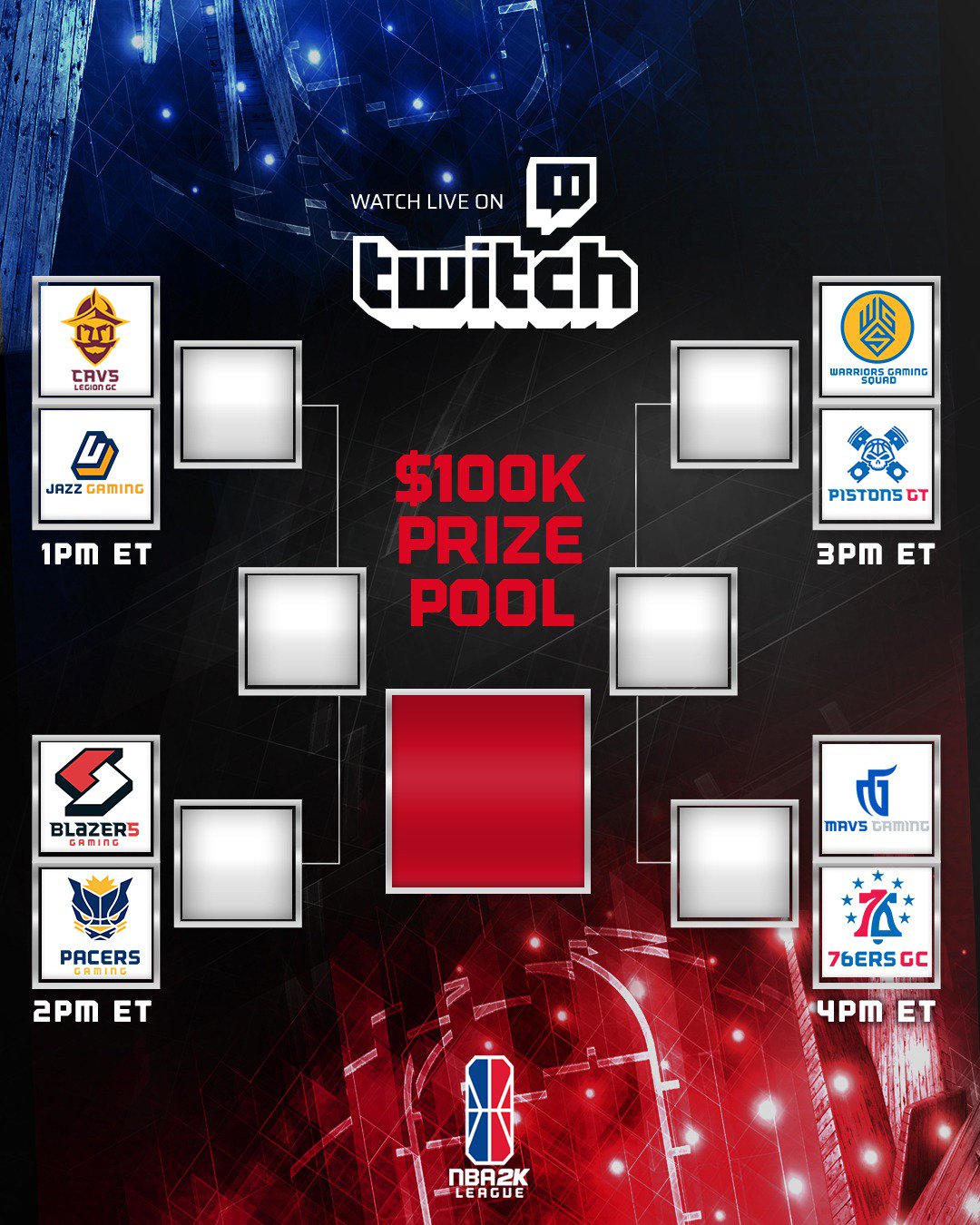 Schedule and Scores (Group Play)
Group A – May 1st
Bucks 44-49 Pistons GT – 5PM EST
Cavs Legion 76-73 vs Kings Gaurd – 6PM EST
Bucks 57-53 (OT) Cavs Legion – 7PM EST
Pistons GT 62-61 Kings Gaurd – 8PM EST
Kings Guard 78-76 Bucks – 9PM EST
Cavs Legion 86-59 Pistons GT – 10PM EST
Group B – May 2nd
Wizards District 65-68 Jazz Gaming – 5PM EST
Knicks Gaming 72-67 Warriors Gaming Squad – 6PM EST
Warriors Gaming Squad 62-56 Jazz Gaming – 7PM EST
Knicks Gaming 81-76 Wizards District – 8PM EST
Jazz Gaming 64-59 Knicks Gaming – 9PM EST
Wizards District vs Warriors Squad Gaming – 10PM EST
Group C – May 3rd
Magic Gaming 51-68 Raptors Uprising – 3PM EST
Blazer5 Gaming 81-68 76ers GC – 4PM EST
76ers GC 70-57 Raptors Uprising – 5PM EST
Blazer5 Gaming 73-59 Magic Gaming – 6PM EST
Raptors Uprising 59-63 Blazer5 Gaming – 7PM EST
Magic Gaming 64-67 76ers GC – 8PM EST
Group D – May 3rd/4th
Heat Check 61-80 Mavs Gaming – 9PM EST on May 3rd
Celtics Crossover 74-62 Grizz Gaming – 10PM EST on May 3rd
Pacers Gaming 61-70 Celtics Crossover – 3PM EST on May 4th
Heat Check 66-63 Grizz Gaming – 4PM EST
Mavs Gaming 50-57 Pacers Gaming – 5PM EST
Pacers Gaming 66-49 Heat Check – 6PM EST
Mavs Gaming vs Celtics Crossover – 7PM EST
Grizz Gaming 45-69 Pacers Gaming – 8PM EST
Celtics Crossover 90-75 Heat Check – 9PM EST
Grizz Gaming 51-92 Mavs Gaming – 10PM EST
Standings – Top Two Teams From Each Group Advance to 'The Tipoff' Playoffs
Group A:
Cavs Legion (2-1)
Pistons GT (2-1)
Bucks (1-2)
Kings Guard (1-2)
Group B:
Warriors Squad Gaming (2-1)
Jazz Gaming (2-1)
Wizards District Gaming (1-2)
Knicks Gaming (1-2)
Group C:
Blazer5 Gaming (3-0)
76ERS GC (2-1)
Raports Uprising GC (1-2)
Magic Gaming (0-3)
Group D:
Pacers Gaming (3-1)
Mavs Gaming (3-1)
Celtics Crossover (3-1)
Heat Check (1-3)
Grizz Gaming (0-4)
Here is the live-stream of the NBA 2K League, which will be hosted on Twitch throughout the entirety of the first season.
[ad name="article3″]
Here are all of the 17 teams that will be participating in the first ever season of the NBA 2K League.