The Call of Duty League has unveiled the full schedule of matches that will be played during the Launch Weekend and the first 11 weeks of the 2020 season.
Teams will be heading up north for the Launch Weekend that will kick off the 2020 season of the newly-formed Call of Duty League.
The event will take place January 24-26 in Minnesota, home of the RØKKR, and will feature all 12 teams that will be competing in the league during the inaugural season.
On November 15, the CDL announced the full match schedule for that weekend of action, along with the other 10 weeks that will make up the first split of the regular season.
There will be 11 matches played in total, three on Friday, January 24 and four each on Saturday, January 25 and Sunday, January 26.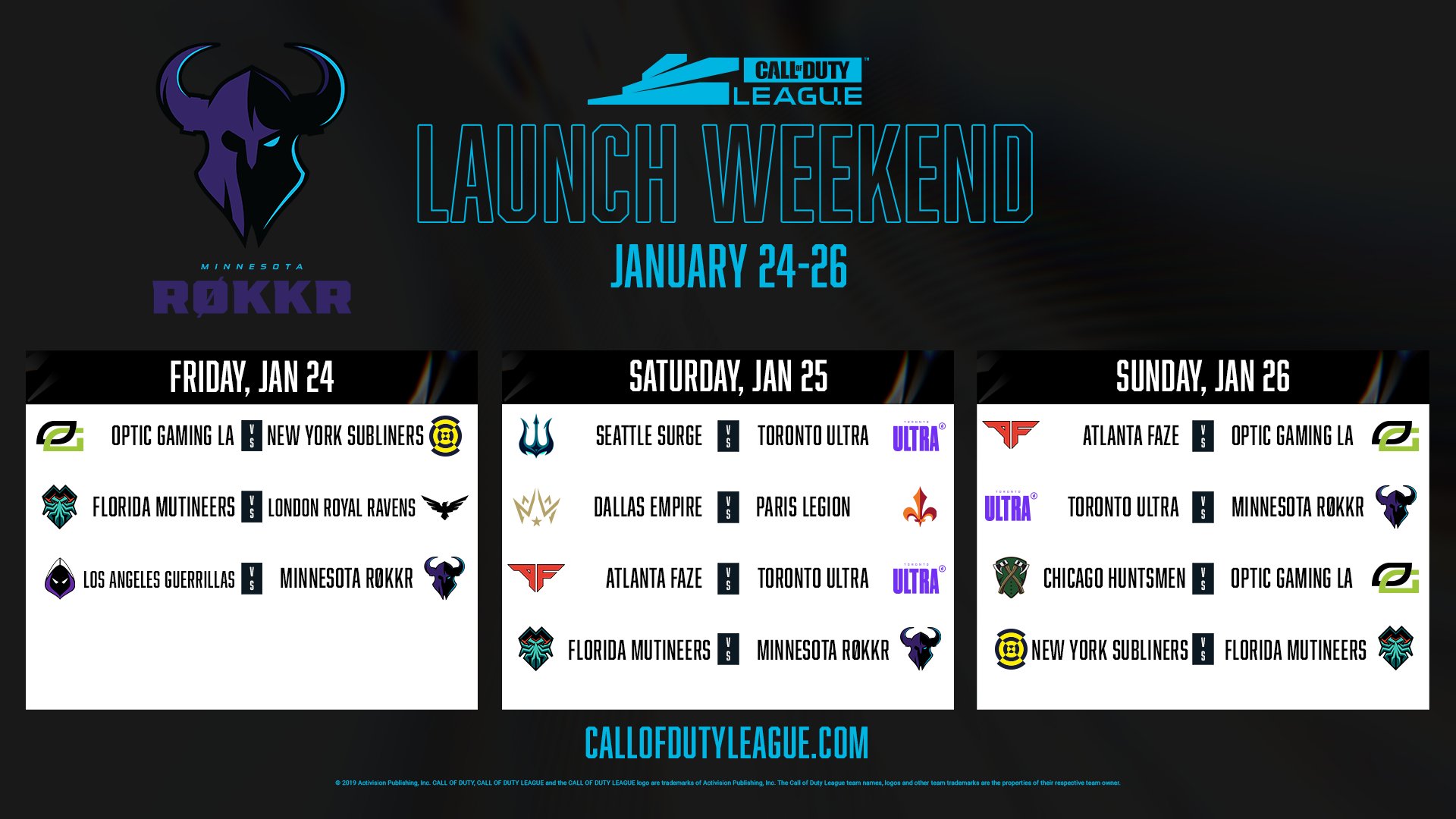 There will be some very good matchups that fans will have to look forward to throughout the entirety of this Launch Weekend, but the final day is when most of the storylines will get written.
Sunday will kick off with the start of a new chapter in the storied OpTic-FaZe rivalry, which will be followed later in the day with what many are already calling a grudge match between Chicago Huntsmen and OGLA.
The match will, of course, feature four players who played for OpTic at some point over the past couple of years – Scump and FormaL on the Huntsmen side and Dashy and TJHaLy with the Green Wall. On top of that, it will be the first time that Chicago's new CEO Hector 'H3CZ' Rodriguez will be going up against the organization that he led for over a decade until leaving earlier this year.
Match schedules for entire first split of 2020 CDL season
The Launch Weekend will be the first of 11 weeks that make up the first half of the 2020 CDL season, and the match schedules for each of the other 10 weeks have also been announced by the league.
Week 2 – Hosted by London Royal Ravens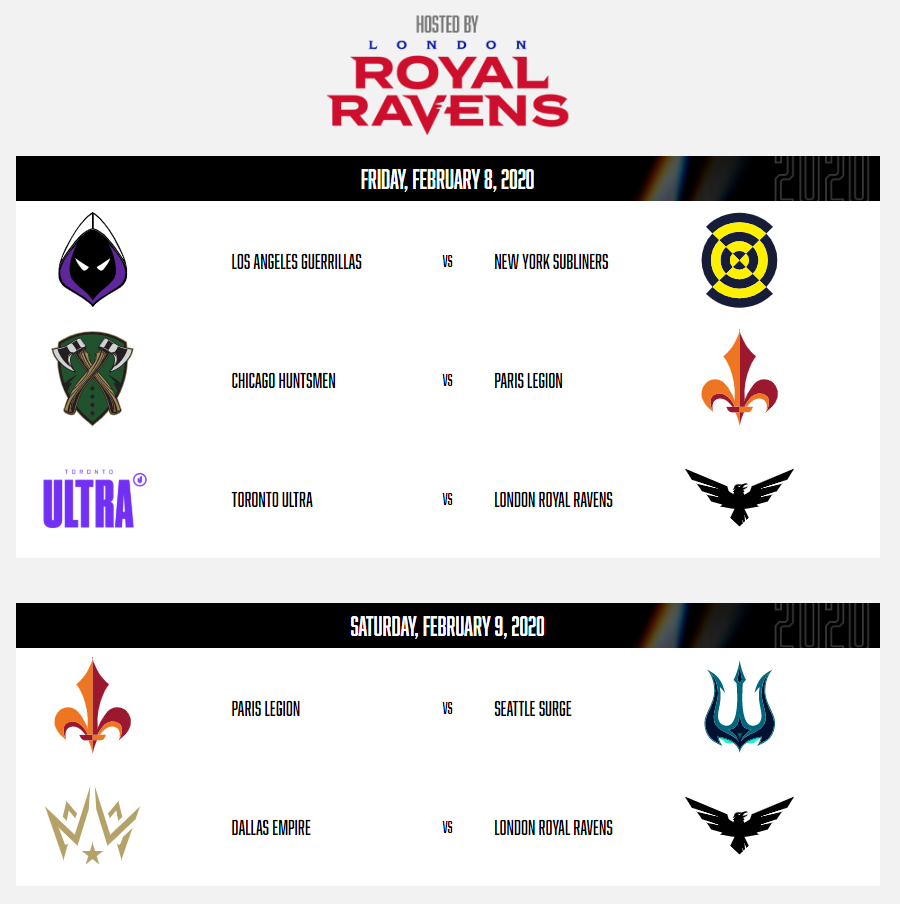 Week 3 – Hosted by Atlanta FaZe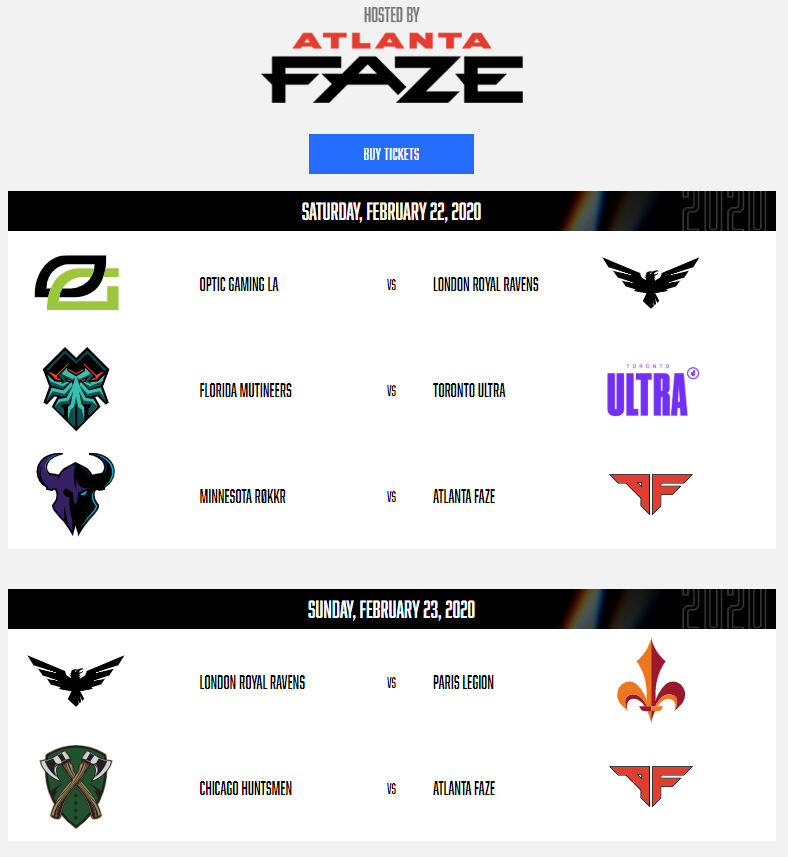 Week 4 – Hosted by Paris Legion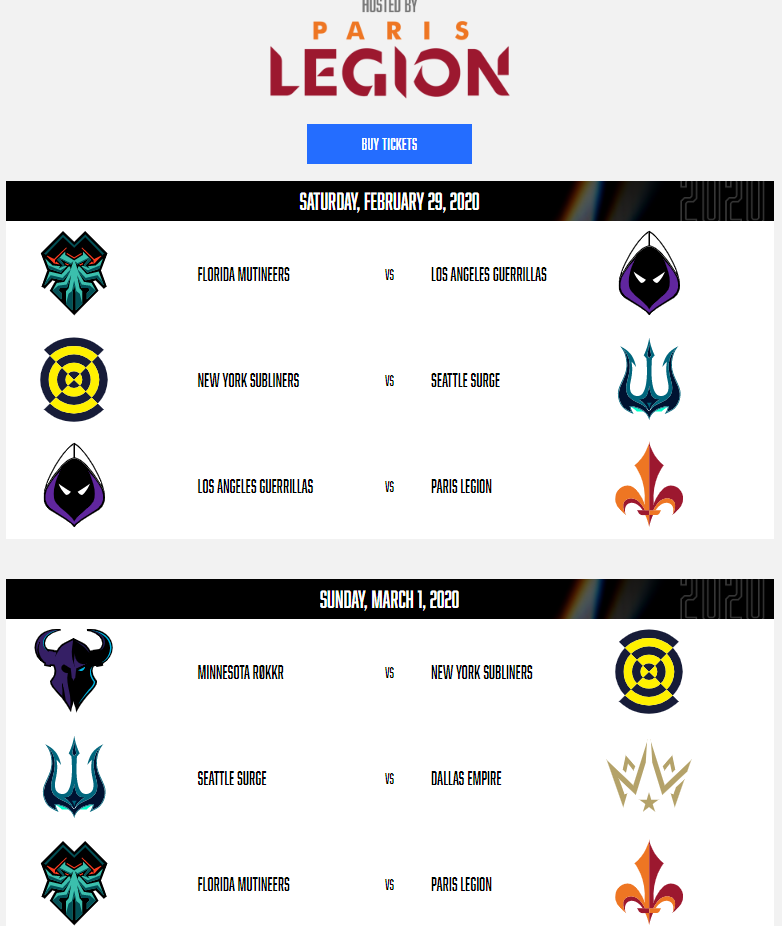 Week 5 – Hosted by OpTic Gaming Los Angeles and LA Guerrillas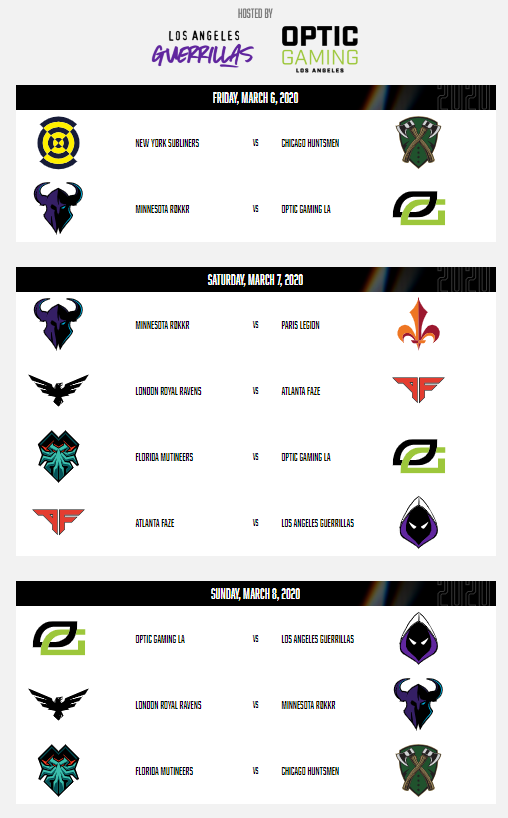 Week 6 – Hosted by New York Subliners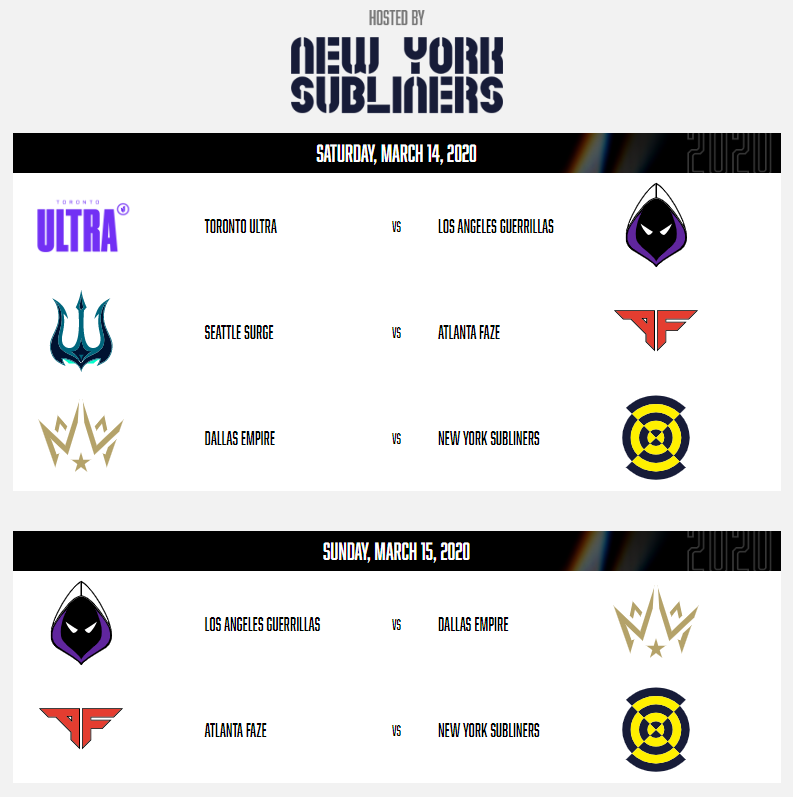 Week 7 – Hosted by Toronto ULTRA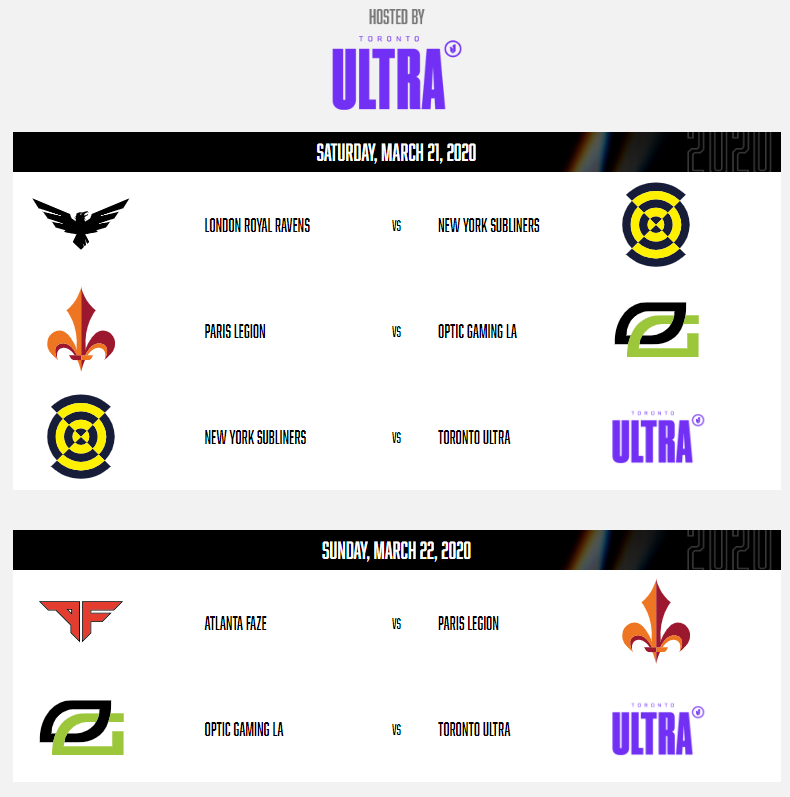 Week 8 – Hosted by Dallas Empire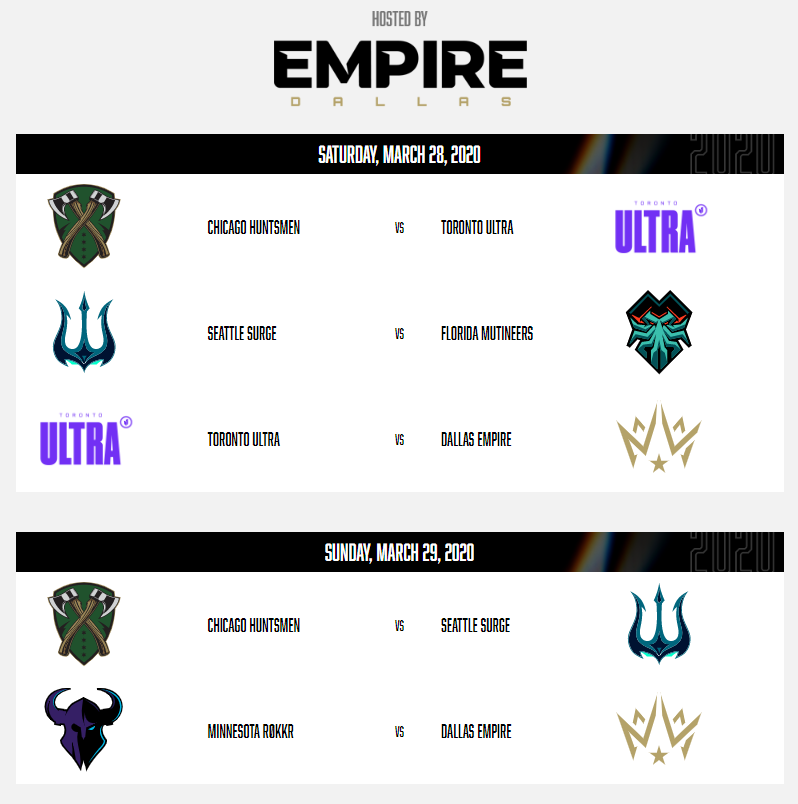 Week 9 – Hosted by Chicago Huntsmen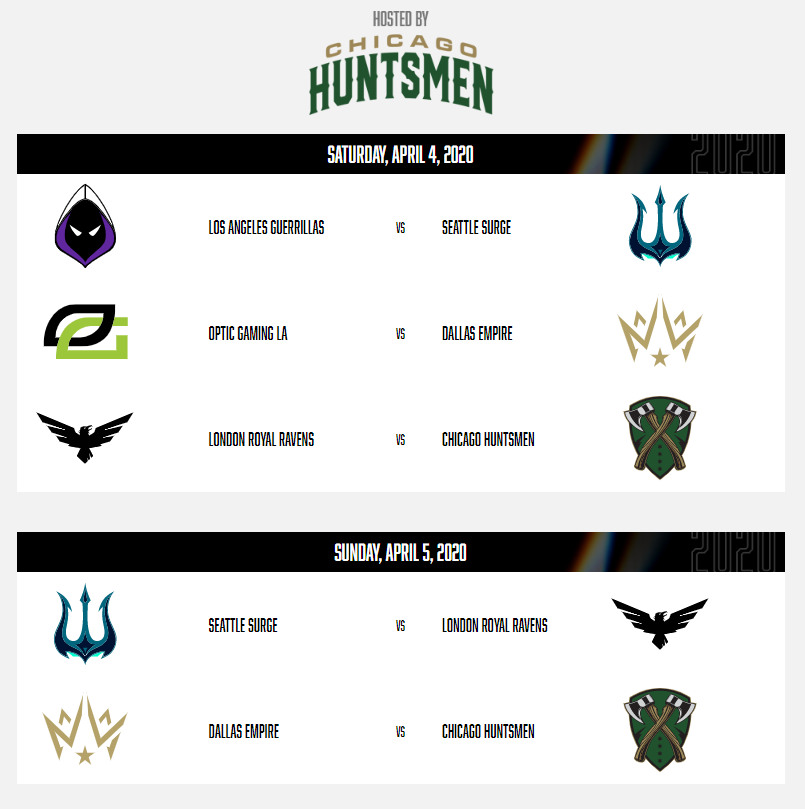 Week 10 – Hosted by Florida Mutineers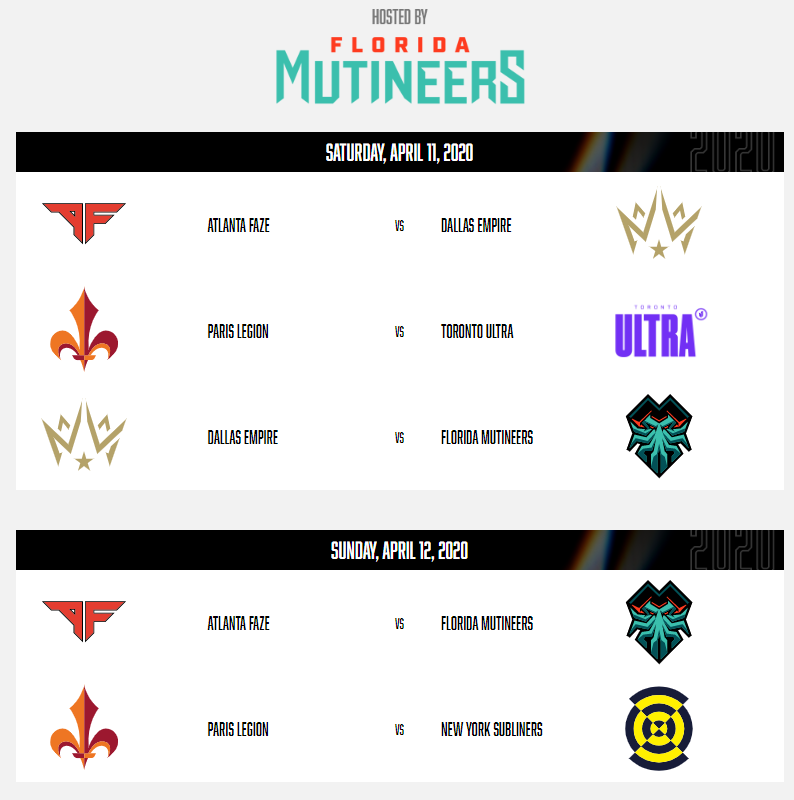 Week 11 – Hosted by Seattle Surge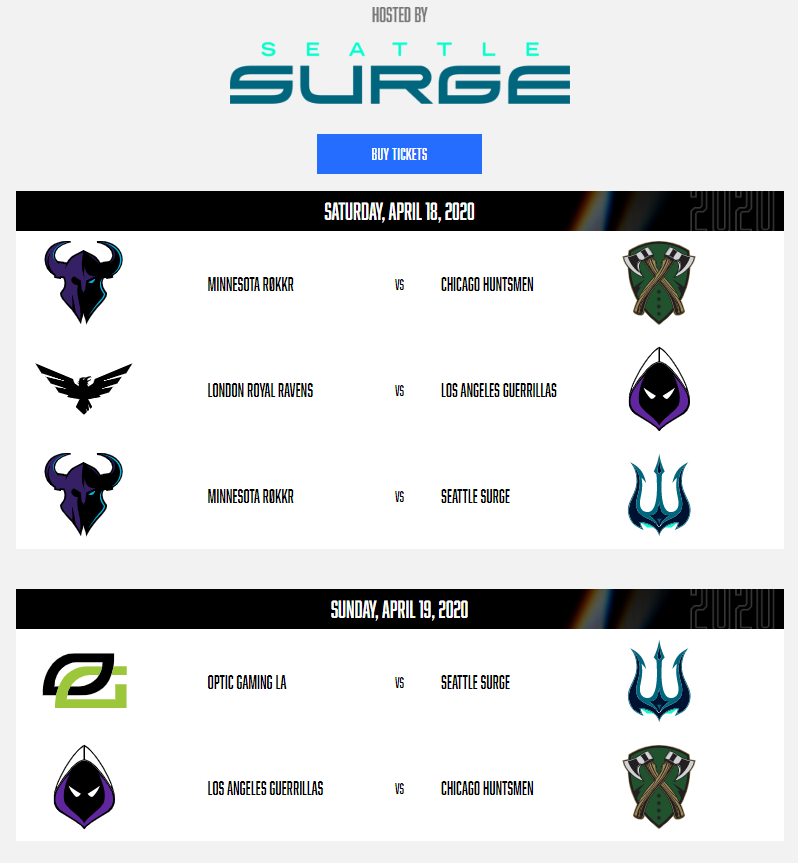 What comes after week 11 of the 2020 CDL season?
Following week 11 will be what the CDL is calling the Midseason Weekend, although not much information has been revealed about that as of yet. The event will most likely be played starting May 2, 2020, according to information accidentally leaked by OpTic Gaming when they announced their schedule.
Following that will be the second split of the regular season, which will culminate with the Championship Weekend on August 9, 2020, the date of which was also leaked.
The match schedules for weeks 12-22 have not yet been announced, but you can check where each weekend will be hosted via the schedule for each location that the CDL released earlier this month