Rise Nation and eUnited came into CWL Birmingham as two of the strongest teams the North American region has to offer.
In the eyes of many, Rise is the favorite to win the event considering they won the previous CWL Atlanta as well as dominated Division A of the CWL Pro League.
EUnited, meanwhile, have completely turned around their game after a slow first stretch of the season.
They came to Birmingham riding high on the momentum they had created with their clutch run to clinch a Pro League Playoff berth.
The two teams are both in Pool A and came together in Day One for a highly anticipated matchup. However, things were not really that close, as eUnited ran all over Rise in a dominant 3-0 sweep.
EUnited looked every bit the team that had been playing at a high level in recent weeks, while Rise looked like a shell of their former selves that had won 20 straight series' coming in.
x
eUnited's Clayster had every reason to smile after he pulled of an insane 'turn on' against Rise Nation's TJHaly.
x
Normally a sweep of this magnitude would capture the headlines, but it was what eUnited player James 'Clayster' Eubanks did in the Game 2 S&D on London Docks that everyone was talking about.
With the score 5-4 in favor of eUnited, Rise player Thomas 'TJHaly' Haly was playing a corner when Clayster jumped down in front of him. Clayster had no idea that TJ was there and thus it was going to be an easy kill.
Well, apparently not. As TJ began firing at Clayster's back, the eUnited player quickly turned and burned TJ in what many are calling one of the most humiliating 'turn on's' in competitive Call of Duty history.
x
x
Naturally, getting absolutely destroyed both in the sense of that moment and the overall 3-0 sweep, Rise were salty after the match and there was some trash talking that happened on Twitter between Clayster and Rise's Anthony 'Methodz' Zinni and Daniel 'Loony" Loza:
x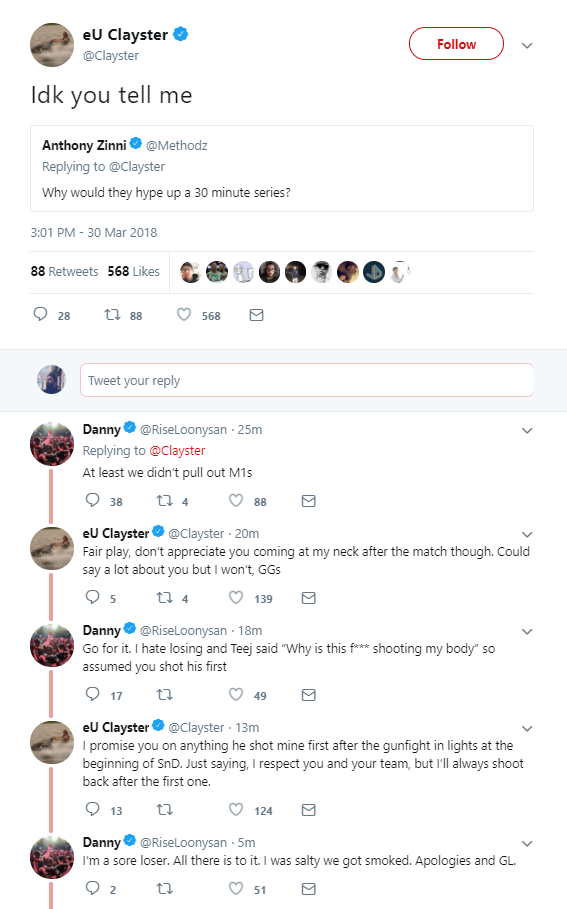 - The $200,000 CWL Birmingham event is the fourth CWL major of the WWII season, taking place in Birmingham, England from March 30th to April 1st. The event's schedule, results, and other information can be found on our 
dedicated coverage hub.
x