The online gaming community was sent into a state of despair between April 11-12th as the servers for the popular video game Fortnite: Battle Royale were in constant flux, and even were shut down for a 17 hour maintenance.
It seemed as if the entirety of the community was on social media complaining about the delays and many could not figure out what to do with themselves while the servers were down.
---
---
It appears that one alternative that gamers used to get their Fortnite fix was PornHub, which is one of the most well-known databases of pornographic content.
According to an article published by PornHub Insights, the website's analytics team found that the searches for "Fortnite" increased by as much as 60% during the time when the servers were down.
x
x
The server issues began around 2PM EST on April 11th, and it seemed as if the increase in Fortnite related traffic on PornHub spiked.
The numbers began growing substantially between 1AM-6AM, which was the period of time when the servers were completely shut down.
As servers began slowly being turned on early April 12th, there were still connection issues and long wait times for queues, which resulted in another spike between 9AM-2PM, when the servers were finally operating normally.
Furthermore, with the help of "affinity" data provided by Google Analytics, PornHub was able to monitor the changes in traffic from those who were interest in video games.
Their data showed that during the 24 hour span that the servers were either having issues or shut down, there was an overall 9.8% increase of gamers visiting PornHub.
x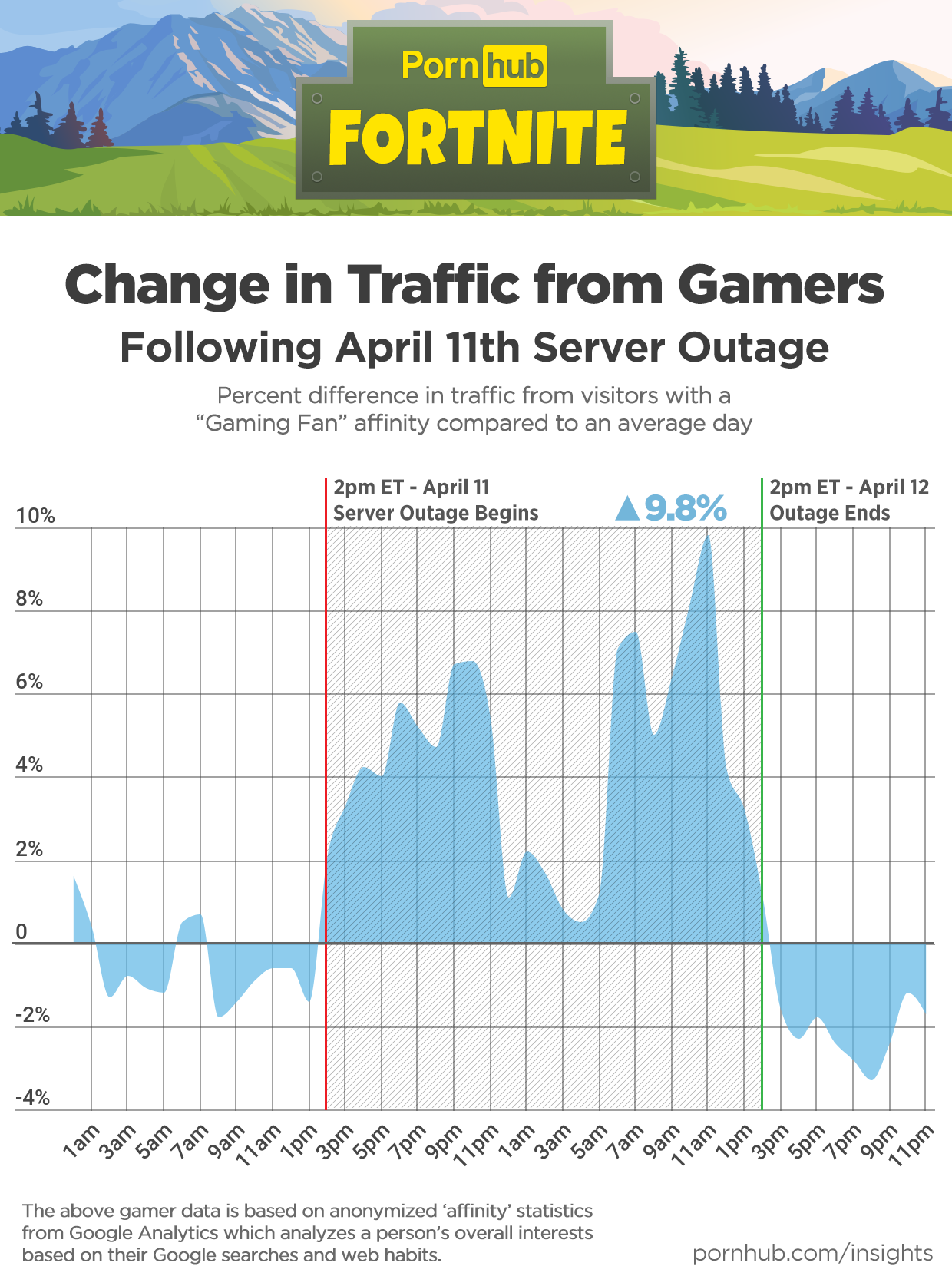 x
Wary of the possibility that this could cause stress on PornHub's servers, the website sent out a hilarious tweet to Fortnite.
Please hurry or our servers will crash next. https://t.co/EjWUs0dgZY

— Pornhub ARIA (@Pornhub) April 12, 2018
x
Images and information from PornHub Insights were used for the purposes of this article.
read more about:
Fortnite
---
Courage on move to OpTic, Maven friendship & frat alias Fluffy | Dexerto Talk Show #6