Overwatch characters top the list for 'Game Character Searches' by a wide margin during PornHub's 2017 Year in Review.
With 2017 coming to a close, PornHub has released an incredibly in-depth 'Year In Review' which covers certain topics such as viewership, searches, categories, and much, much more. The 5th annual roundup is one of the most extensive to date, with the website reporting over 81 million daily users, 28.5 billion annual visits, and 25 billion searches, along with other incredible statistics. However, the report also documented which terms people search for the most, with 'Overwatch' being crowned as the 13th-most searched term across the platform, including topping the charts overall for the nation of Brazil. It did not stop there for the wildly popular gaming title, with three characters from the title sitting at the top of the list for 'Game Character Searches' by a wide margin with over 9 million searches between them.
"Some games will never be played out; this year's list looks a lot like last year's list, but in a very different order. Overwatch and seemingly all of its characters have teamed up to completely dominate the searches in this department. So it's no surprise that the top three most searched are all from Overwatch, with D.Va), Mercy and Tracer come in at first, second and third place respectively."
A full breakdown of the 2017 'Game Character Searches' can be found below.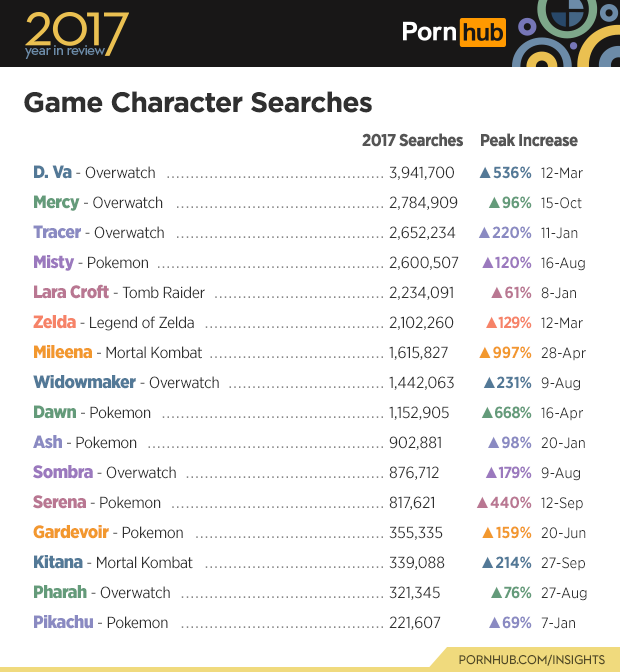 More information on PornHub's 2017 Year in Review can be found on their official
'Insights' page
.
Source: PornHub H/T: DotEsports