The content creation world was shell-shocked on the afternoon of April 3rd as news broke out of an active shooting at the YouTube headquarters in Northern California.
With more information and details about the attack being revealed periodically, here is some information that has already been confirmed regarding a major events timeline, the suspected shooter, the victims, and witness accounts.
x
x
Major Events Timeline (PST)
1:35 PM 
- San Bruno Police respond to mulitple 911 calls of a shooting at YouTube HQ.
1:50 PM
- Authorities post on social media to warn people to stay away from the area. Google Communications tweets out that it is helping local law enforcement with the situation.
2:10 PM 
- Police confirm that there was an active shooter and multiple shots were fired. Television shows people leaving buildings one by one as they are inspected by the police.
3:05 PM 
- Authorities report that the shooter was a woman and that she died of self-inflicted gunshot wound. San Francisco General Hospital reports to have received three wounded patients, one of which was in critical condition.
5:10 PM 
- Authorities confirm that the shooter used a handgun did indeed shoot herself dead, although no motive was announced. Police also confirmed a fourth victim was taken to the hospital but was not suffering from any gunshot injuries.
5:40 PM 
- Law enforcement officials report that the incident is being investigated as a possible domestic dispute.
x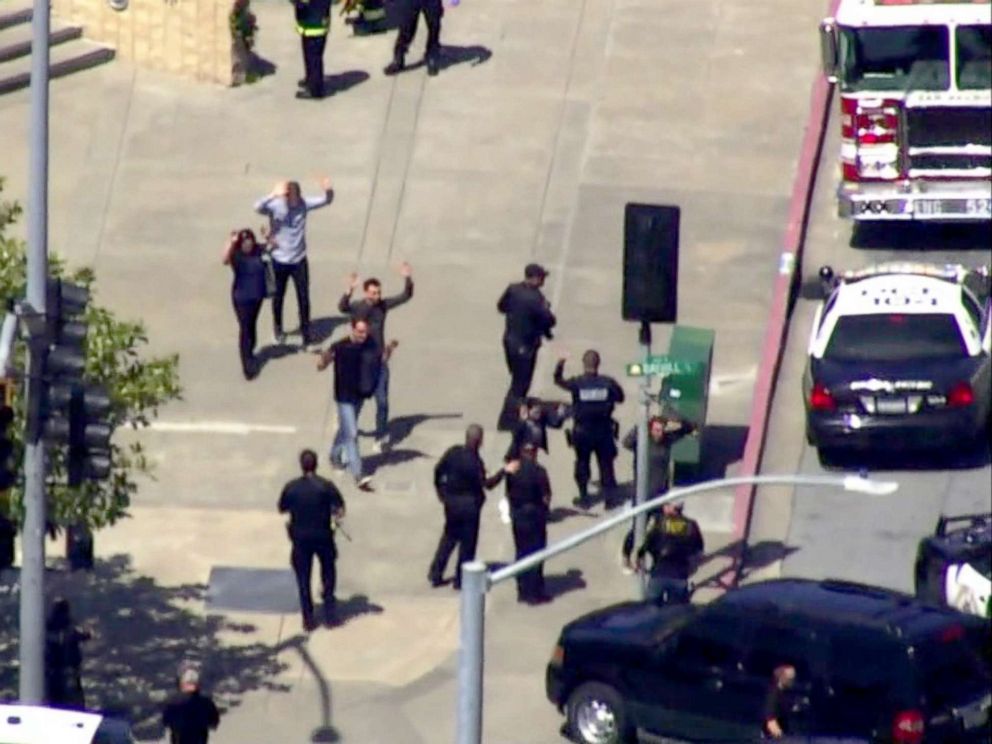 x
The Shooter
The suspected shooter's identity has not yet been revealed, but there are several things that have been confirmed. The suspect has been confirmed to have been a female between 35-40 years old who lived in the Southern California area. She used a handgun to commit the shooting and, although no motive has officially been announced, her attack is being investigated as possible domestic abuse case. The suspect seems to have no connection with YouTube itself.
x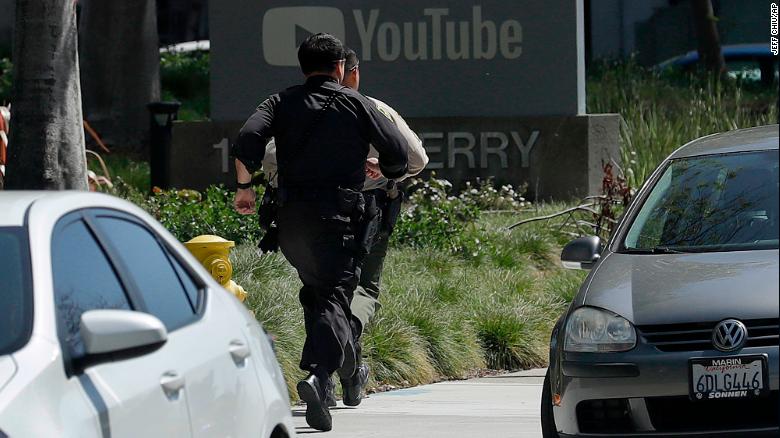 x
The Victims
There are three reported victims that were wounded by gunshots during the attack and transported to Zuckerberg San Francisco General Hospital. According to hospital spokesman Brett Andrew, the male victim is 36 years old and is in critical condition, one female victim, 32, is in critical condition, and the other female victim, 27, is in fair condition. It is reported that the male victim appears to be the intended target of the suspect while the other two victims were shot unintentionally. A trauma surgeon at the hospital commented that all of the patients are "awake and aware of what happened."
x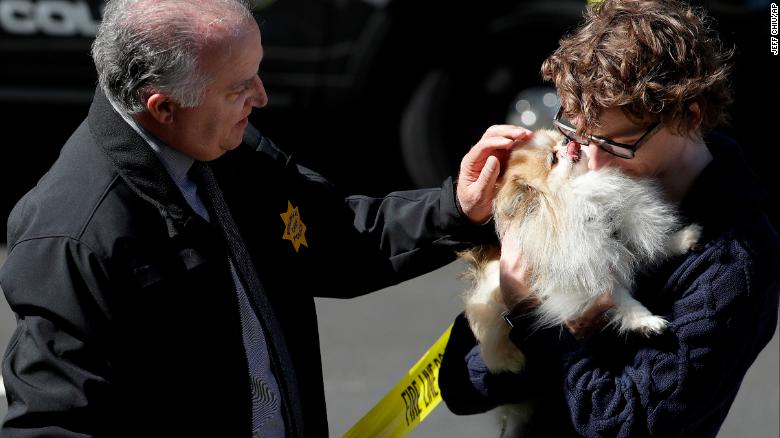 x
Witness Accounts
Several employees and nearby witnesses offered their accounts of what happened to some of the news media. Todd Sherman, a product manager for YouTube, shared his experiences via a series of tweets.
x
Zach Vorhies, a senior software engineer, shared his experience with the Associated Press, who included this in their report.
He was at his desk working on the second floor of one of the buildings when the fire alarm went off. He got on his skateboard and approached a courtyard, where he saw the shooter yelling, "'Come at me, or come get me.'" He saw somebody lying nearby on his back with a red stain on his stomach that appeared to be from a bullet wound. Vorhies said he realized there was an active shooter when a police officer with an assault rifle came through a security door. He said the public can access the courtyard where he saw the shooter during work hours.
The article also includes what Michael Finney, a supervisor at the nearby Carl's Jr restaurant, told the San Jose Mercury News about what he remembered seeing.
He came out of the bathroom to see a woman in a booth bleeding from the calf. Two friends were trying to stop the bleeding, using the victim's sweatshirt as a tourniquet, but it wasn't helping, he told the San Jose Mercury News. "Everyone was figuring out what to do," Finney said. "I was trying to stay calm and see what I could do. Everybody is shocked."
ABC News reported about two Bay Area residents, Tim McCarthy and Travis Ganley, who were having lunch at that very same Carl's Jr.
" They heard about 15 gunshots go off When they looked out of the window, they saw people running down the stairs of YouTube's building, McCarthy said. Although they didn't realize exactly what was wrong, they opened the side door to the restaurant, beckoning the fleeing crowd to take cover inside. "That's when we realized that the people we let in were injured," McCarthy said. One woman had been shot in her calf and had blood all over her pants and shoe, he said. He and others grabbed napkins and a shirt to apply to the wound, while another bystander fashioned a tourniquet from a bungee cord.
x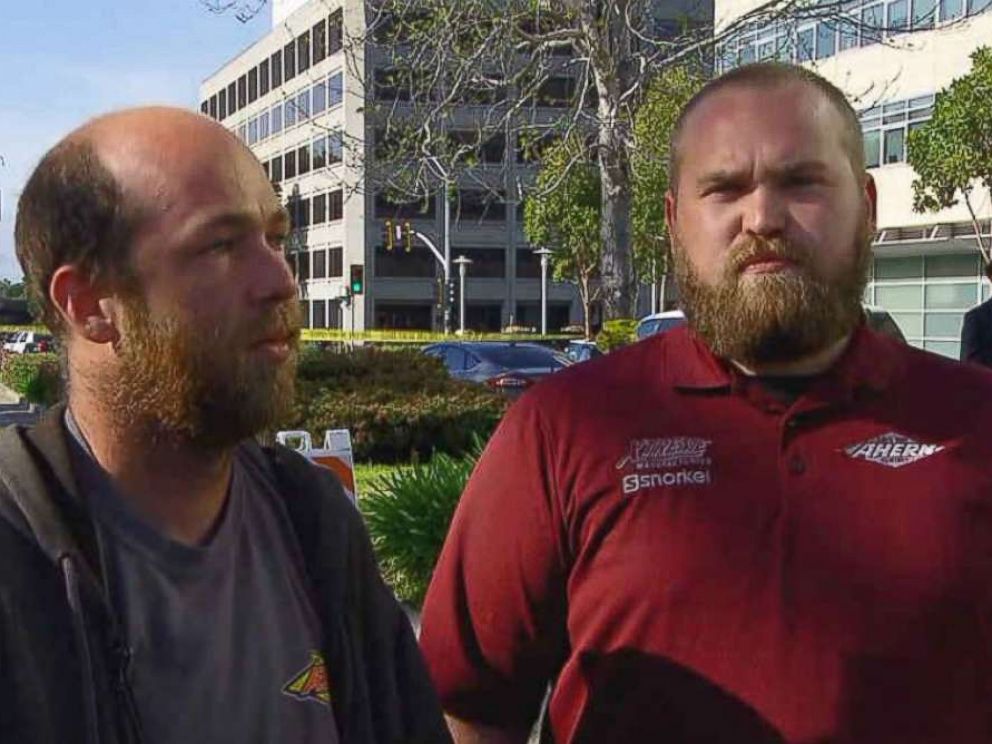 Bay Area residents Tim McCarthy and Travis Ganley were having lunch break at the Carl's Jr. restaurant when they heard about 15 gunshots go off, they told ABC News. - With a lot of information still left unrevealed, more details about this shooting and the suspect can be expected to be revealed in the coming days and weeks.
x
Images and information were used from the following sources for the purposes of this article - Associated Press; CNN; ABC News; KRON 4