Matthew 'Nadeshot' Haag's 100 Thieves esports organization has officially signed a Counter-Strike: Global Offensive roster made up of ex-Immortals players.
Originally founded in early 2016 after Nadeshot decided to part ways with the OpTic Gaming organization, the 100 Thieves brand has seen a rapid amount of growth in recent months following numerous high-profile moves within the esports industry. After securing a
multi-million dollar investment
from Cleveland Cavaliers owner Dan Gilbert, Nadeshot and 100T were able to obtain a coveted spot within the 2018 League of Legends Championship Series alongside teams such as Team SoloMid, Cloud9, and others, including his former squad - OpTic Gaming. However, 100T would expand once again on December 12th with the announcement of the team signing former Immortals players Henrique 'HEN1' Teles, Lucas 'LUCAS1' Teles, Vito 'kNgV-' Giuseppe, and Lincoln 'fnx' Lau, along with Bruno 'bit' Lima, previously with Team One. Yet, even though a massive pickup for the organization, the move still comes with a slight amount of controversy due to the recent situation involving HEN1, LUCAS1, and kNgV- which resulted in all three players were eventually
leaving or being removed from Immortals
following an incident at DreamHack Montreal.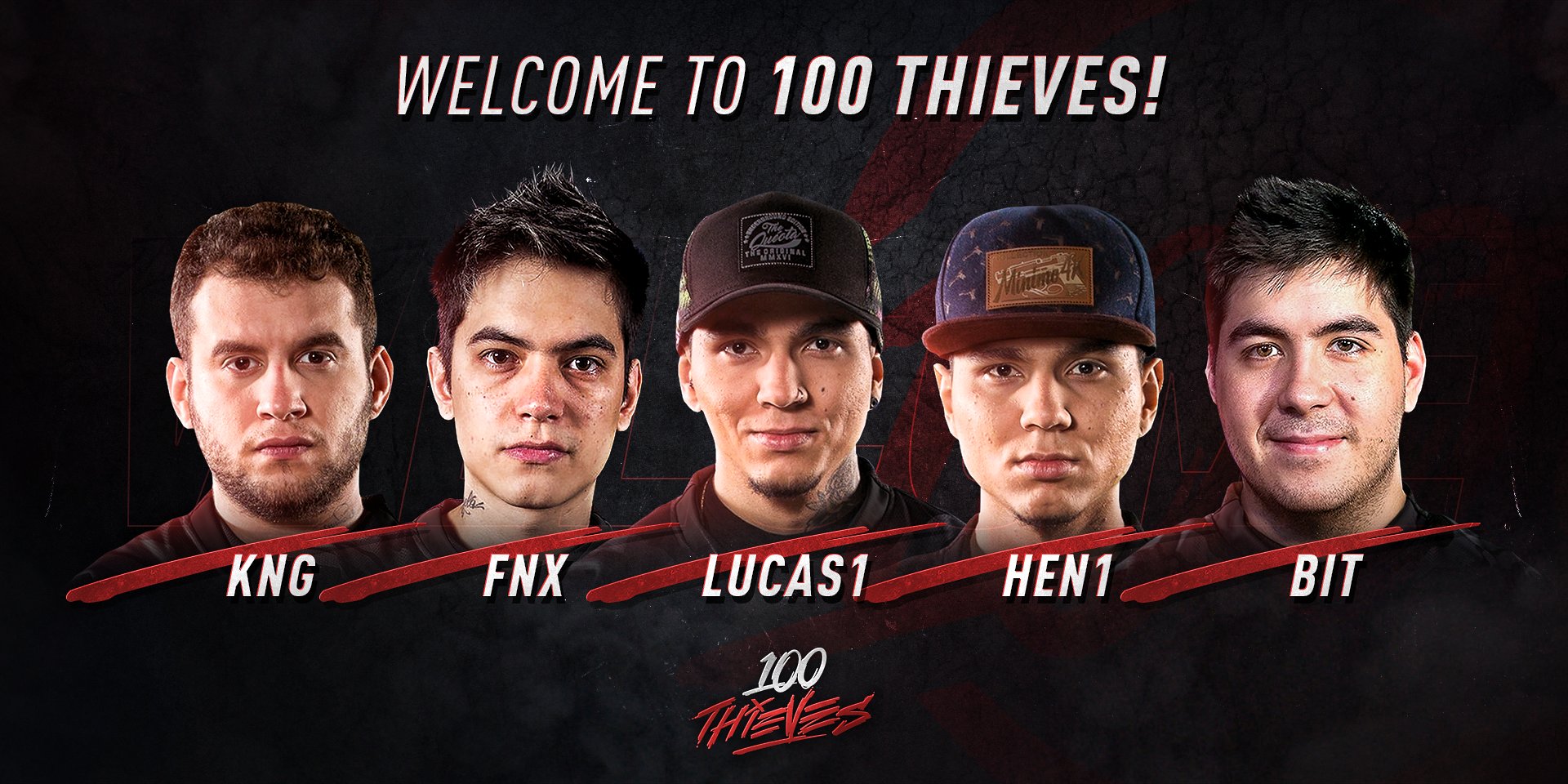 100 Thieves CS:GO
Nadeshot would address the situation in a new YouTube video announcing the team, stating that although the recent circumstances with some of the players were very serious, he believes they deserve another chance within the competitive CS:GO community.
"And so although the events that took place in the last couple months with some of these guys were very, very serious, I just don't think it should ruin their careers. I don't think that they should be ostracized from the CS:GO community, and I think they should be given another opportunity to play at the highest level on the world stage, playing the majors and spots that they earned That's what was important for me in the decision to sign these guys and team up with them permanently."
More information on the decision to sign the new roster for the foreseeable future can be viewed below. https://youtu.be/ZBZBM2fyl60
100 Thieves Counter-Strike: Global Offensive
 Henrique 'HEN1' Teles
 Lucas 'LUCAS1' Teles
 Vito 'kNgV-' Giuseppe
 Lincoln 'fnx' Lau
 Bruno 'bit' Lima