The Team of the Season So Far event is well underway in FIFA 20 Ultimate Team and here's everything you need to know about each team confirmed so far – as well as some information on those coming soon.
For some time now, we have known that EA would never be able to release TOTS cards as they have in recent years. Instead, with football all across the world having been suspended due to the ongoing global situation, a new in-game event called Team of the Season So Far has launched.
With this, they will be rating players season based on what they have achieved right up to the point of competitions being put on hold, or in some cases, canceled. All of the top leagues will get a TOTSSF and we have put the confirmed and upcoming Leagues below.
[ad name="article1″]
FIFA 20 Team of the Season So Far: Confirmed and Predictions
Community TOTSSF
EA showcased the Community TOTSSF to kick things off, with fans being given the chance to make their own selections right off the bat. The confirmed team, once voting closed, included some of the season's top performers, including Joe Gomez, Casemiro, and Fernandinho.
Premier League TOTSSF
EA have revealed the Premier League TOTSSF, too, which includes Virgil Van Dijk, Kevin De Bruyne and, Adama Traoré. At the time, these were available in packs for players to get their hands on and many will have been played with by content creators by now. It was released on May 2.
[ad name="article2″]
The benefit of that, of course, is that you can see how they play in-game and work out which is the best buy from the set. Clearly, as seen below, there are some standouts.
La Liga TOTSSF
The developers showed us the La Liga TOTSSF on May 9, and it didn't disappoint. With names such as Lionel Messi, Raphaël Varane, and Jan Oblak, clearly fans of those clubs and the league as a whole will be delighted. There was a distinct lack of Getafe players, though, which was quite surprising given they were flying high in the table.
[ad name="article3″]
EFL TOTSSF
The EFL TOTSSF is also here! We have Aleksandr Mitrović, Kalvin Phillips, and Matheus Pereira!
A number of resulting SBCs were released with the promo, which kicked things off alongside the Community picks on April 25.
Weeks later, the event is unfolding and while Championship fans have got their fill already, the same can't be said for many other top leagues in Europe.
[ad name="article4″]
Saudi Pro League TOTSSF
EA have also released a shortened team for the Saudi Pro League, with a few gems such as Sebastian Giovinco, Nordin Amrabat and, Abderrazak Hamdallah.
Amrabat had previously been one of the most skillful players in Ultimate Team, as players from previous years will remember, with Giovinco one of the fastest the MLS has ever seen. So, will you be bringing them back into your FUT this year?
Bundesliga TOTSSF
The German league might be restarting on May 16, but EA SPORTS rolled out the Bundesliga TOTSSF the day before, featuring a plethora of high-rated players, including three untradeable cards released via SBC/Objectives.
The squad is headlined by 99-rated Lewandowski, 97 Werner, 96 Sancho, and a whole lot more incredible looking cards.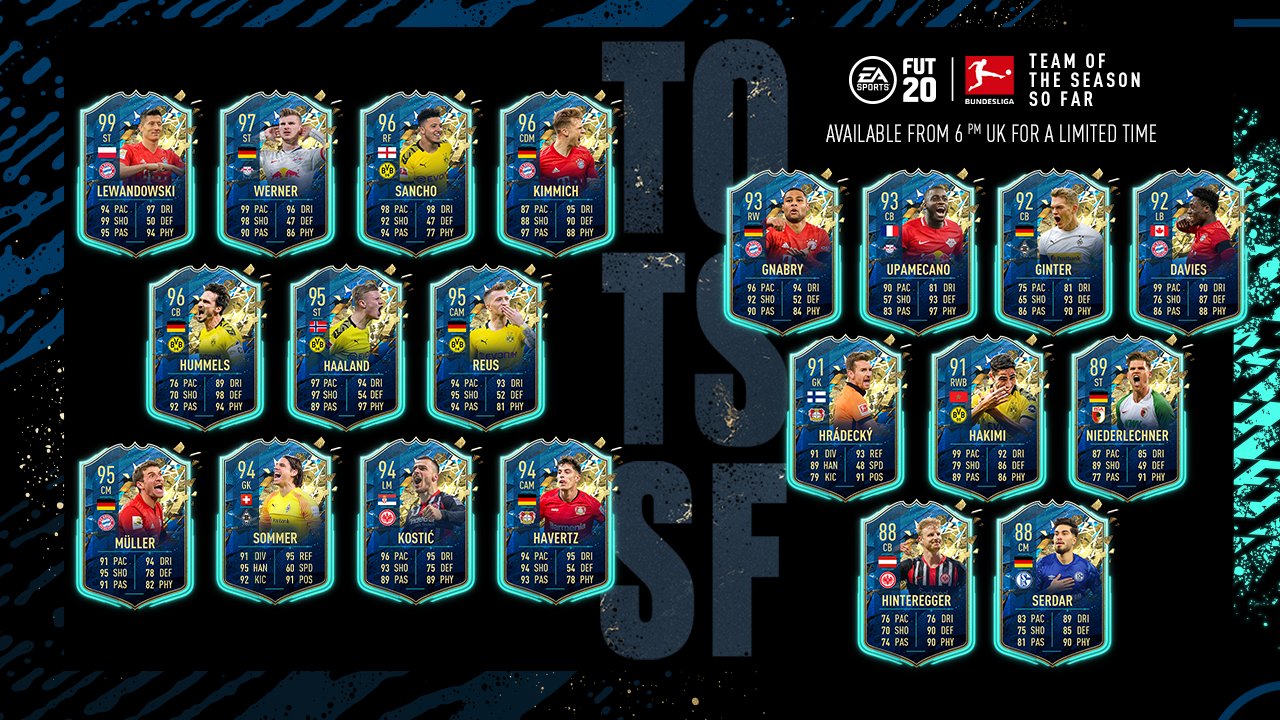 Turkish Süper Lig TOTSSF
This one has been confirmed, and released on May 11. The Turkish league's best performers have come out in a shortened team, and it includes world-beaters that have ended up in Western Asia like Ricardo Quaresma, Papiss Cissé, and Gaël Clichy and more.
Liga NOS TOTSSF
Released on May 18, the Liga NOS TOTS So Far celebrates the best players from the Portuguese first division before it was suspended in March. The squad is comprised almost entirely of players from FC Porto and SL Benfica, which isn't too big of a surprise since both clubs are leading the way in the current standings.
Ligue 1 TOTSSF
As you'd expect, the Ligue 1 Team of the Season is stacked with some superstar talent, particularly from PSG, who were comfortably atop the table when the league got suspended.
Eredivisie TOTSSF
With the Eredivisie officially canceled, EA released the league's TOTSSF squad on May 25. As you'd expect, it's full of some high-rated Ajax players, including the SBC that came as part of the squad.
Chinese Super League TOTSSF
The CSL Team of the Season So Far squad was released on May 25 along with the Eredivisie one above. It features several high-rated Brazilian players, including fan-favorites Paulinho and Hulk, both of whom look like they'll be fun to use in-game.
MLS TOTSSF
The MLS Team of the Season was released on June 1 along with the LATAM (Latin America) squad. It consists of some superb players, such as Carlos Vela and Josef Martinez, although players might be more interested in the pair of 90+ pace centerbacks.
Serie A TOTSSF
The Italian league was the first league stopped short due to the global crisis and its TOTSSF has been confirmed. We had created some predictions you may be interested in here including Cristiano Ronaldo, Lautaro Martinez and, Sergej Milinkovic-Savic – which all turned out to be accurate! Full official team below,
LATAM TOTSSF
As was the case last year, EA SPORTS packaged the Mexican, Argentinian, Colombian and Chilean leagues in a single Latin America Team of the Season for FIFA 20, and there are certainly some cards that will draw attention.
Rest of the World (ROW) TOTSSF
The Rest of the World Team of the Season So Far squad was released on June 8, and since it's usually the final one to be rolled out every year, this means that the TOTS period is likely done for FIFA 20.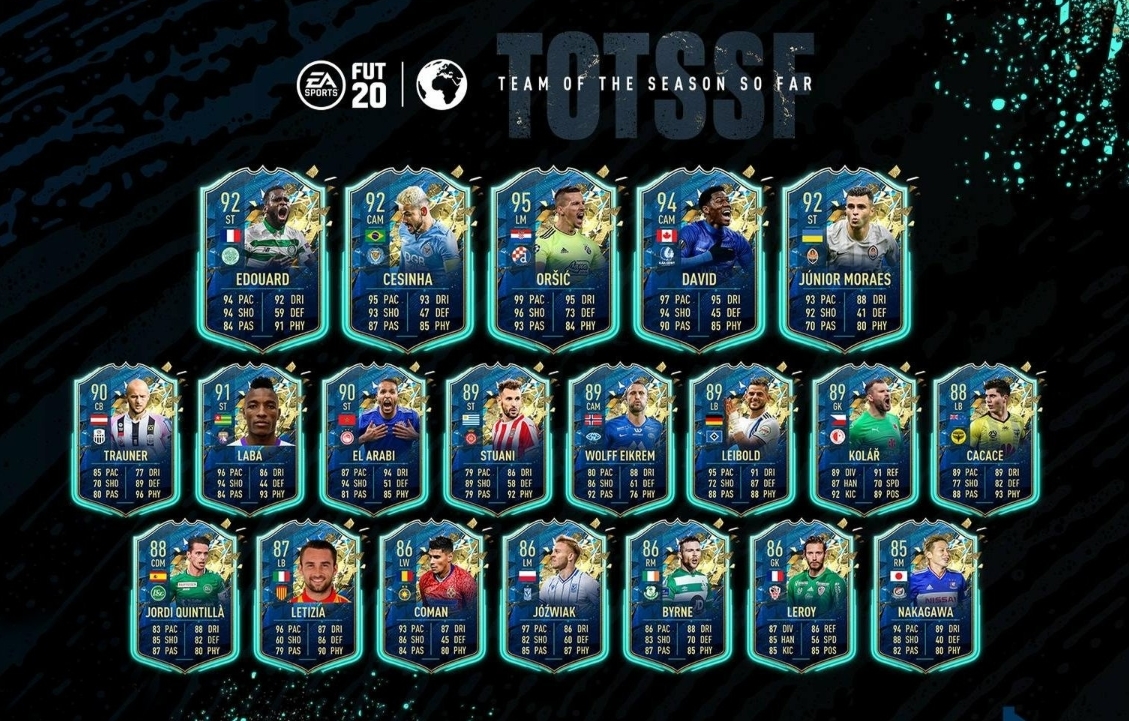 ---
So, there you have it! Those are the official and predicted Team of the Season So Far squads for FIFA 20. If the league you're looking for isn't up just yet, just know we'll be the first to report it on @UltimateTeamUK when it does roll out.