Legendary North American esports organization Evil Geniuses have revealed their brand-new logo and revamped brand, and the majority of the esports community are most definitely not fans of it.
When it comes to esports organizations, few have a history as rich and long as Evil Geniuses, who were originally founded in 1999 and have thrived since then.
One of the most recognizable aspects of EG has always been their logo, which featured the two letters combined in a distinct way, surrounded by a circle.
[ad name="article1″]
However, that iconic logo has now been thrown by the wayside, as on December 12, the organization announced a total revamp to their brand in honor of the beginning of a new decade.
The new logo features the words EVIL GENIUSES written out one above the other, with the V slightly larger than the rest of the letters in such a way that it overlaps onto the second word.
It's time for a new decade of EVIL.

2020 isn't ready for us. #LIVEEVIL pic.twitter.com/spCwp9uiVM

— Evil Geniuses (@EvilGeniuses) December 12, 2019
[ad name="article2″]
EG also revealed what their new jerseys look like with this redesigned logo emblazoned across the chest. A sample of one of their shirts is currently visible on the home page of their official website, which was also revamped.
The organization has adopted a new motto as well – "Live Evil," taking advantage of the fact that the 'Evil' portion of their name spelled backward is 'Live.'
[ad name="article3″]
Esports community reacts to Evil Geniuses' brand revamp
It's safe to say that a very large majority of the reactions so far to EG's new logo have been negative, as most fans have taken to questioning the organization for their decision to part ways with their iconic symbol.
Prominent esports orgs Team Secret and Team Liquid both replied to the announcement tweet with GIFs to express their true feelings without having to actually spell them out.
— Team Secret (@teamsecret) December 12, 2019
— Team Liquid (@TeamLiquid) December 12, 2019
In fact, almost every single reply has been much of the same, with the only exceptions being those who are members of EG or companies that are partnered with them.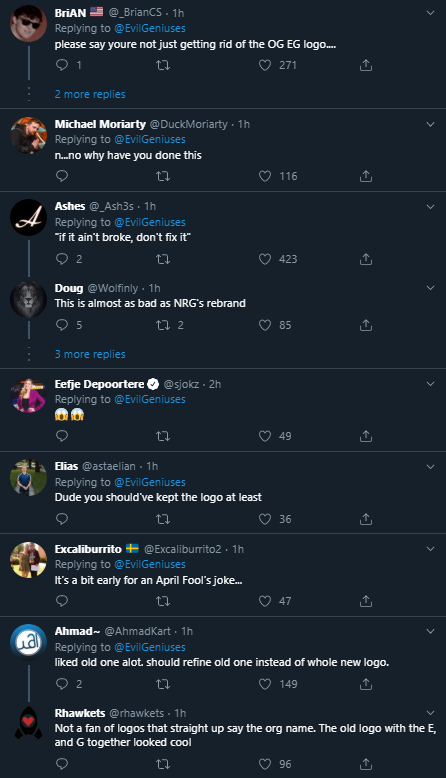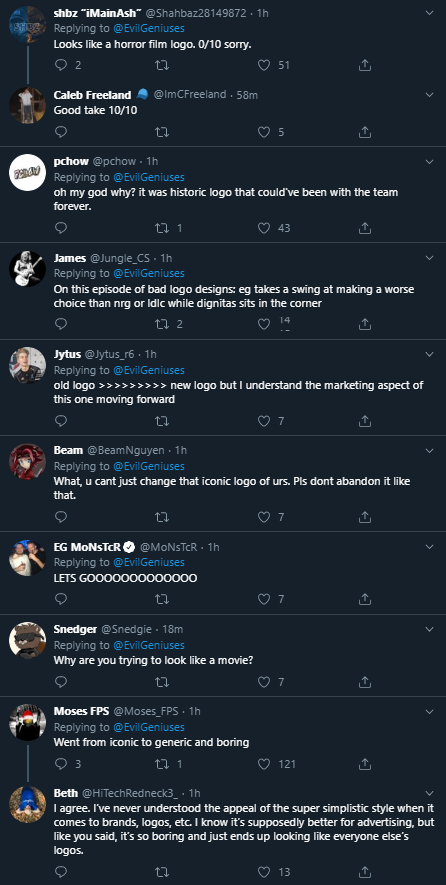 Evil Geniuses have not issued a statement or response to all of this outrage, but they've most definitely seen it. That said, there's probably not much for them to say, and it would be extremely unlikely that they bring back their old logo after spending so much effort and resources into this total revamp.