The MP7 is one of the strongest weapons available in Call of Duty: Modern Warfare, and we've put together a list of the best attachments combinations and class setups that cater to all the various play-styles.
As is the case seemingly every Call of Duty title, SMGs play a prominent role in Modern Warfare multiplayer, with there being several viable options from which to choose from.
One of best SMGs, and weapons overall, is the MP7 – a compact submachine gun that has a high fire rate, great control, and high agility, making it devastating in close-quarter engagements.
Its only real downside, if you can call it that, is that it's only available to those who reach level 54, making it the final gun in its class that can be unlocked.
For those who have unlocked it, or want to try it out in a private match, we've put together several MP7 loadouts for five different styles of play – run-and-gun, stealthy but deadly, tactical and longer range, competitive/balanced, and Overkill.
Each of these setups has their own unique set of attachments, secondary weapon, perks, lethals, and tacticals, making them specifically built for each type of gameplay. Keep in mind that these classes feature things that you may not have unlocked yet, in which case try to find suitable replacements that share similar properties and effects.
Best run-and-gun Mp7 loadout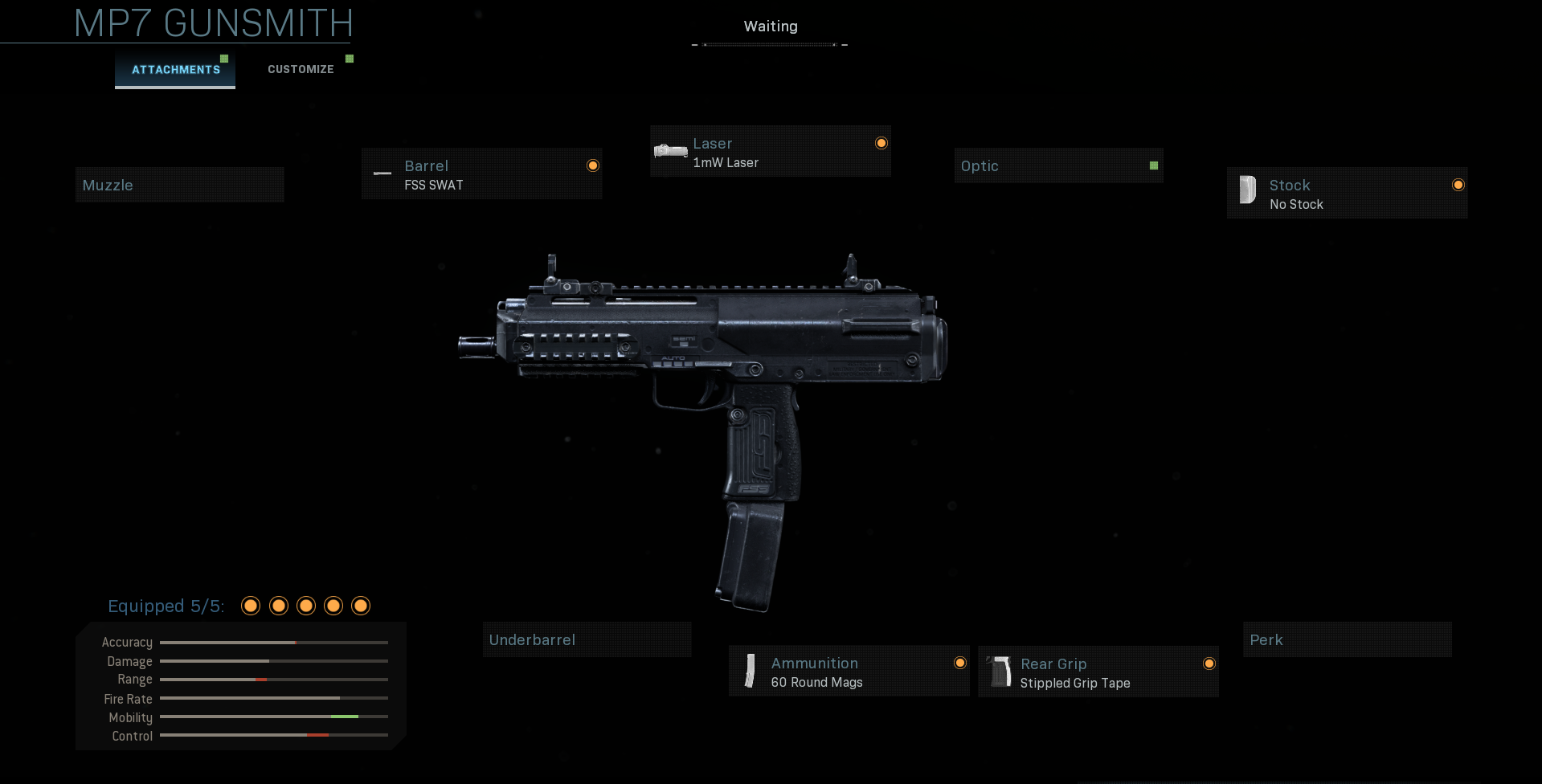 ATTACHMENTS
Barrel: FSS SWAT

Laser: 1mW Laser
Stock: No Stock (choose this exact option, don't just remove the Stock)

Ammunition: 60 Round Mags

Rear Grip: Stippled Grip Tape

SECONDARY – Combat Knife
PERKS
Perk 1: Double Time
Perk 2: Ghost
Perk 3: Battle Hardened
THROWABLES
Lethal: Frag Grenade

Tactical: Stim
Adopting a run-and-gun style in Modern Warfare isn't the easiest thing to do, but if there's one weapon to play that way with it's the MP7, especially when equipped with these attachments.
The FSS SWAT Barrel, No Stock, and Stippled Grip Tape all prioritize mobility, which is why that stat is so greatly boosted. The 1mW Laser ensures higher hip-fire accuracy, and since finding time to reload isn't always easy when rushing around, having all that extra ammo in each magazine will come in clutch.
Of course, when one stat is prioritized this heavily then at least a few others will take hits, and in this case those stats are accuracy, range, control. But that's okay because you don't really need those stats if your plan is to be constantly getting in your enemies' faces.
As for the rest of the class, the Combat Knife secondary and Double Time perk will help you move around faster, while having a Stim is great for instantly replenishing your health before getting into another gunfight.
Best stealthy but deadly Mp7 loadout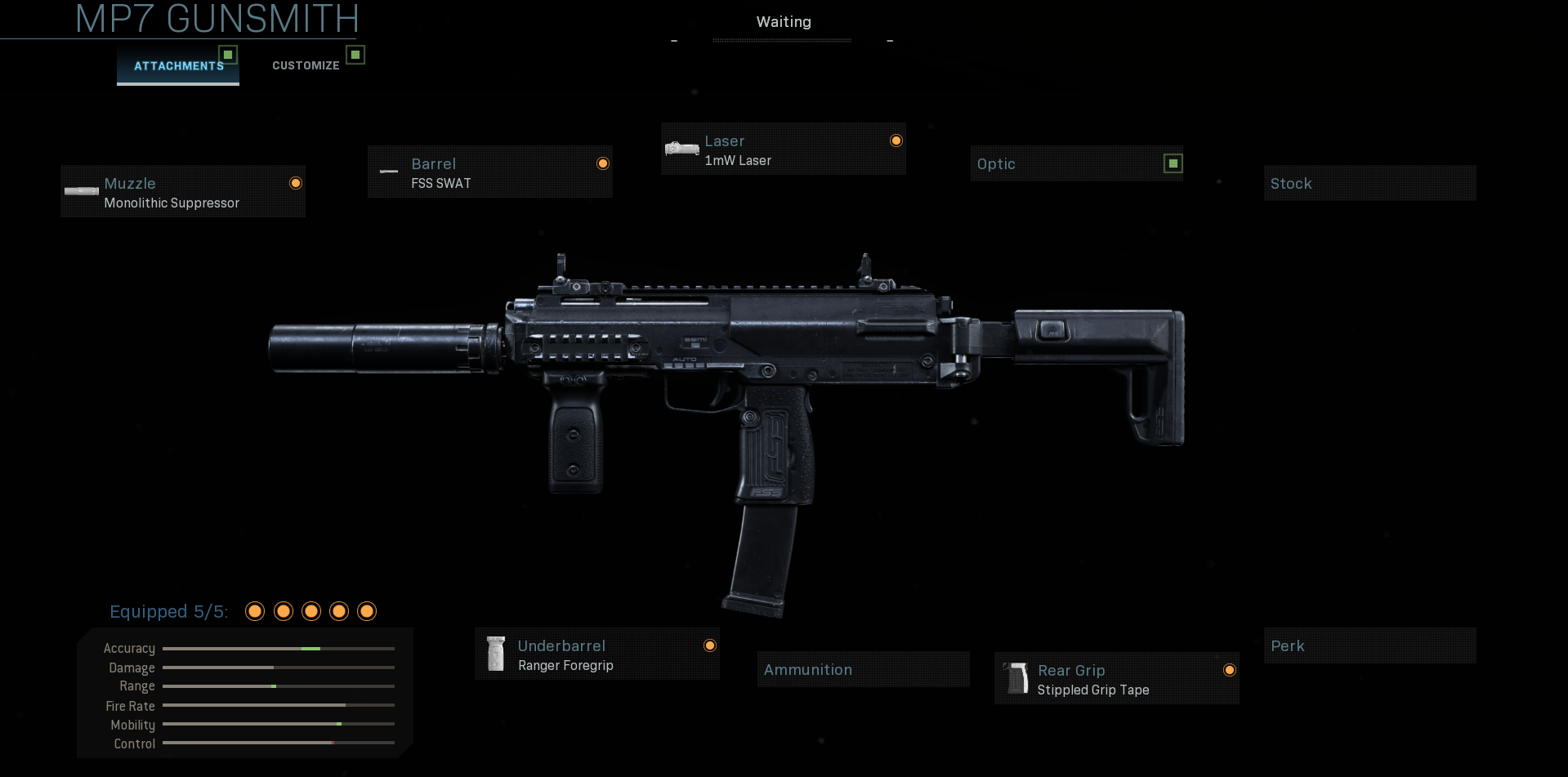 ATTACHMENTS
Muzzle: Monolothic Suppressor
Barrel: FSS SWAT

Laser: 1mW Laser
Underbarrel: Ranger Foregrip
Rear Grip: Stippled Grip Tape

SECONDARY – .357 Handgun
PERKS
Perk 1: E.O.D
Perk 2: Ghost
Perk 3: Tune Up (for charging up Dead Silence faster)
THROWABLES
Lethal: Frag Grenade

Tactical: Smoke, Snapshot, Decoy Grenade or Heartbeat Sensor
This class is for those who may not be skilled enough to run and gun in this game, but still want to be constantly on the move. These attachments ensure higher accuracy, range, and mobility, while the Monolothic Suppressor make sure that no one can hear the sound of your weapon firing.
The .357 Handgun is a great secondary if you need to pop someone at long range, while having Tune Up as your third perk helps charge your Field Upgrade faster, which in this case should most definitely be Dead Silence.
As for your tactical, there are a lot of ways you can go. The Smoke Grenade will keep your enemies guessing about your position, and could open the door to a quick getaway, the Decoy Grenade is great for misdirection, and both the Heartbeat Sensor and Snapshot Grenade will allow you to see if there are any enemies nearby.
Best slower and longer range Mp7 loadout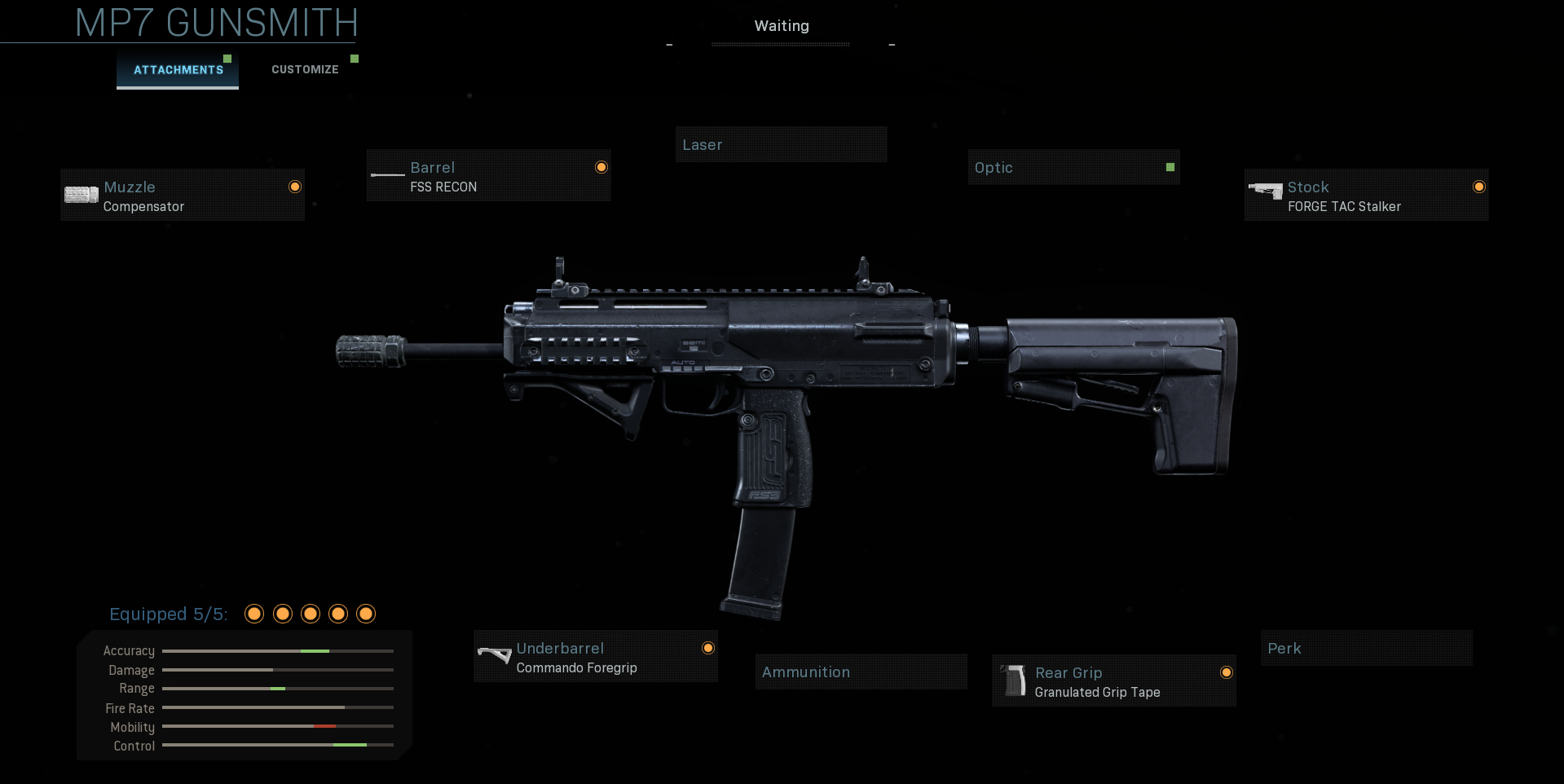 ATTACHMENTS
Muzzle: Compensator
Barrel: FSS RECON
Stock: FORGE TAC Stalker Stock

Underbarrel: Commando Foregrip
Rear Grip: Granulated Grip Tape

SECONDARY – M19 Handgun
PERKS
Perk 1: Scavenger
Perk 2: Ghost
Perk 3: Battle Hardened
THROWABLES
Lethal: Claymore

Tactical: Smoke or Stun Grenade
This class is more or less the opposite of the run-and-gun loadout in that it helps the MP7 become much more viable at longer range, since the attachments provide a considerable boost to accuracy, range, and control.
Of course, this means that Mobility is the stat that takes the huge loss, although that's by design, since that's the one category that you won't need if your plan is to play slower, more tactical, and engage and longer distances.
Of course, this being the MP7, you can still definitely use it in close-quarter gunfights as well, and you will also have the M19 Handgun in your back pocket if you need another short range weapon.
Scavenger is a good perk to have in this class, since you'll probably be using more ammo to eliminate enemies, while having a Claymore can really help watch your own back if you're going to be stationary for longer periods of time.
Best balanced and competitive Mp7 loadout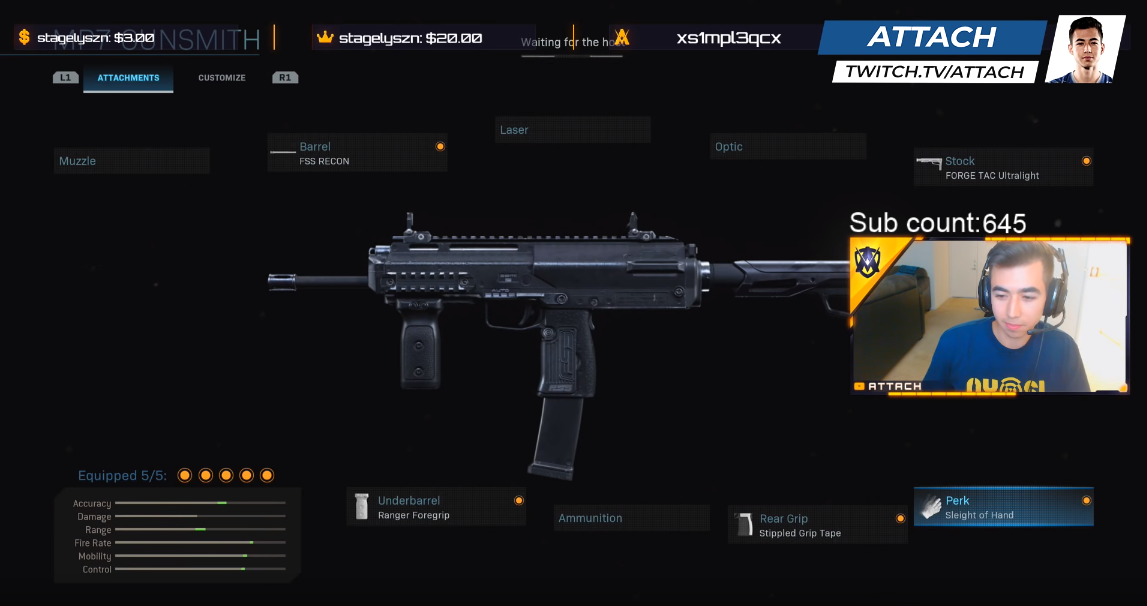 ATTACHMENTS
Barrel: FSS RECON
Stock: FORGE TAC Ultralight Stock

Underbarrel: Ranger Foregrip
Rear Grip: Stippled Grip Tape

Perk: Sleight of Hand
SECONDARY – JOKR Launcher or .357 Handgun
PERKS
Perk 1: Quick Fix or E.O.D
Perk 2: Ghost
Perk 3: Battle Hardened
THROWABLES
Lethal: Semtex

Tactical: Smoke Grenade
This might be the most complete and balanced MP7 class in this whole list, which is why it's the ideal one to use in objective-based game modes, whether in competitive custom matches or casual public ones.
The weapon build is courtesy of star Call of Duty pro Dillon 'Attach' Price, who currently plays for the New York Subliners CDL team. It's a very balanced setup, considering that there are FIVE different stats receiving a slight boost: accuracy, range, fire rate, mobility, and control, while the Sleight of Hand gun perk allows for faster reload speed.
If you are playing competitive matches using the official ruleset, then gun perks are restricted, so you can go with the 1mW Laser to improve hip-firing, extended mags for more ammunition, or a muzzle attachment to further improve range.
As for the secondary, the JOKR Launcher could be ideal for helping your team stay clear of annoying killstreaks, although if you can't use a launcher due to it being restricted in competitive play, you can always go with the .357 Handgun for some long range-pop to compliment the MP7's short-range damage.
The perks are pretty standard as E.O.D is probably the best one to use , although Quick Fix is a good alternative as it helps regen your health faster while capturing objectives.
Best Overkill Mp7 loadouts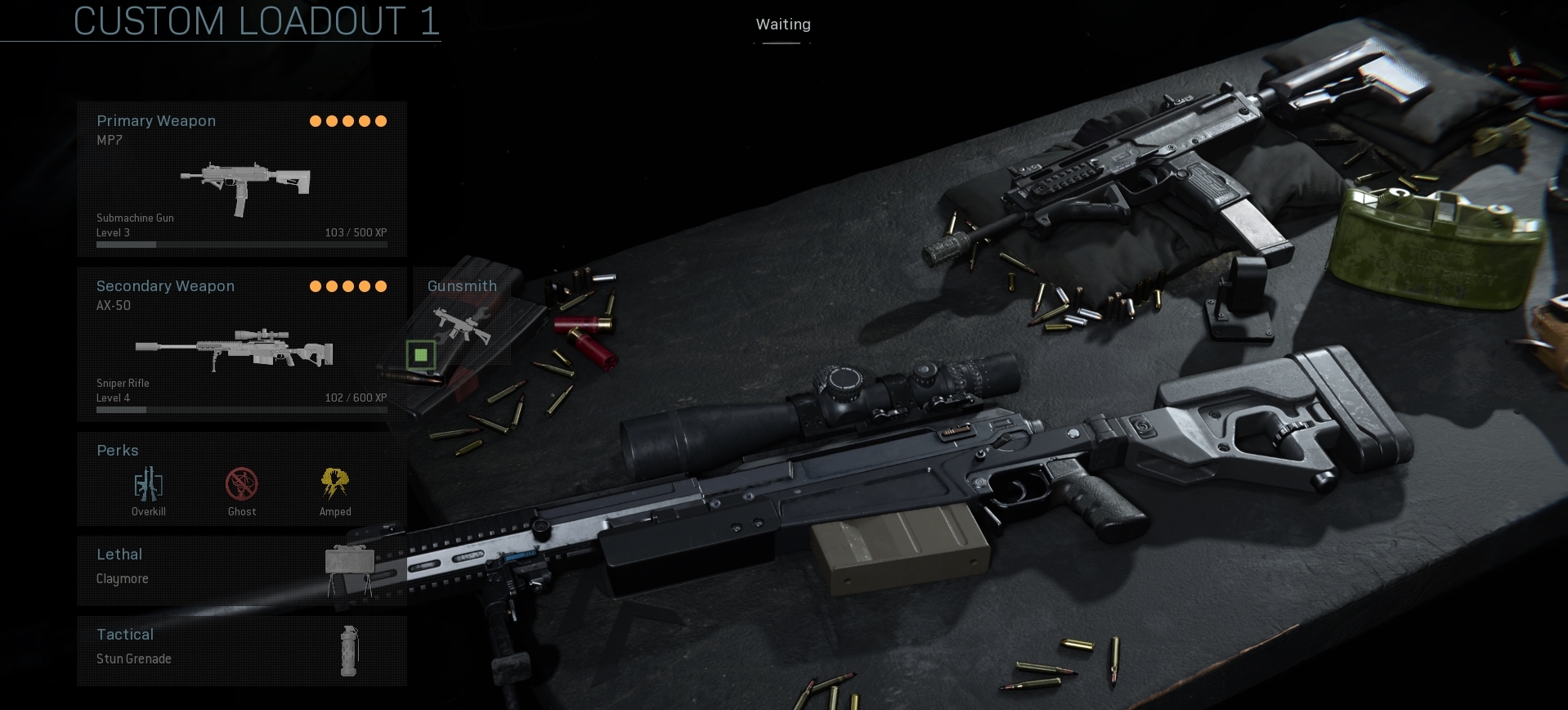 Once again, Overkill has proven to be one of the more powerful perks available in Call of Duty, and even more so with Modern Warfare since the lack of a pick-10 system means you can build a class that has two primary weapons fully stacked with five attachments each.
If you want to build a good Overkill class with the MP7, the best approach is to pair it with a longer-range weapon, since the SMG itself is already so devastating at close range.
You can either use the run-and-gun or balanced attachment loadout for the MP7 to maximize its close-quarter potential, and have a marksman rifle or sniper rifle as the second primary to cover longer distances.
You also have the option of pairing it up with a longer-range build of the M4A1 assault rifle, which is one of the most powerful guns in the game, and create an overpowered SMG-AR combo that could mow through the enemy team.
Of course, there's also the 725 shotgun alternative, and it would be hard to imagine stronger close-range Overkill class than one that has both the MP7 and 725. However, if you do go down this route, be prepared to get a lot of hate and anger from other players.
There you have it – the best classes and loadouts featuring the powerful MP7 SMG. Now, load back into the game, set up and use these classes in some multiplayer matches, and let us know what you think!
Also, make sure to check out the other guides we've done for Modern Warfare: