Tom Casiello, a Respawn Entertainment writer for Apex Legends, recently revealed some previously-unknown info regarding Octane's and Mirage's lore within the game's story.
As those who play Apex probably know, Respawn's prize battle royale features a deep storyline and lore that goes way beyond the boundaries of the Apex Games.
It's through this the developers are able to introduce more content like new characters and map changes, all of which fit into one grand picture like pieces of a puzzle.
[ad name="article1″]
While the newer Legends like Revenant, Crypto, Wattson, and even the unreleased Forge have a good deal of lore, some of the older characters, like Octane and Mirage, don't have as complex of a story behind them.
Mirage was the topic of one question directed towards Casiello during a Twitter Q&A on March 28, as one fan asked about the Holographic Trickster's relationship to the AI announcer, whose voice booms through the map every match.
The Respawn writer revealed the Legend does indeed know the announcer is AI, while also exploring some of the "internal insecurities" and even his former lover.
That's a story for another time. It'll be interesting to see who he opens up to about that part of his life first…..

— Tom Casiello (@tommiecas) March 26, 2020
[ad name="article2″]
Inevitably, that spurred another fan to ask a question, this time about Octane's love life and what the future holds for the Adrenaline Junkie in the game's main story.
"Hey Tom, a lot of Octane fans, such as myself, are wondering about two things – will Octane get more lore, will he ever have a part in the main storyline, and what is his relationship? A good majority of Octane fans support Octane x Wattson, is it true?"
Fortunately for the many interested parties, Casiello answered yes to the first two but did dispel the rumor the speedster and Wattson are in a relationship.
1) Yes. 2) Yes. 3) He's currently single. https://t.co/6HlFPZLoiL

— Tom Casiello (@tommiecas) March 27, 2020
[ad name="article3″]
Of course, those who may not be familiar with this aspect of the game could be taken aback by how massive the fanbase is for Apex Legends lore and story.
This was the case for Twitter user 'Minimoose,' who made the mistake of asking "people actually ask for this?" to which Casiello replied with an explanation and warning wrapped in one.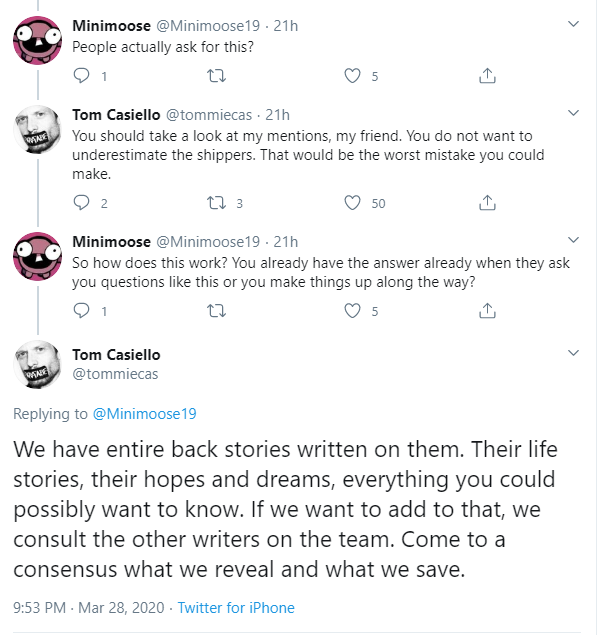 Respawn have already proven that they're willing to not hold back when it comes to content like this, going as far as to include fake coding in the back-end files to fool dataminers and leakers.
So, it looks like they are just getting started when it comes to revving their lore engines, as the Apex plot continues to thicken in coming seasons.