Respawn Entertainment have officially unveiled the first event of Apex Legends Season 3: Meltdown – the Fight or Fright Collection Event, which will be Halloween-themed.
With Halloween approaching, the developers at Respawn have put together an event that brings the spooky time of the year into their popular battle royale title.
The Fight or Fright Collection Event will be kicking off on October 15 and will last until November 5, going straight through the Halloween season.
It looks to be stuffed with a flurry of new content, including the return of the Kings Canyon map, which will be set in nighttime, as well as a bunch of new cosmetic items, challenges, and a Double XP promo weekend.
You can find a thorough breakdown of everything to expect below, including the official announcement made by Respawn.
Darkness descends on Kings Canyon with the Fight or Fright Collection Event! :jack_o_lantern::spider_web:

Experience Kings Canyon at night as you jump into an exciting new limited-time mode, score spooky cosmetics, and more. Step into the shadows 10/15. pic.twitter.com/l6mdBDjc4P

— Apex Legends (@PlayApex) October 14, 2019
Shadowfall LTM – return of Kings Canyon
The launch of Season 3 in Apex Legends introduced the brand new map called 'World's Edge,' which replaced the familiar sights and sounds of Kings Canyon.
However, the map of Seasons 1 and 2 will already be making a return during this event, as part of the Shadowfall Limited Time Mode, and it will be seen in its night version for the very first time.
The LTM is very similar to the popular Infected game mode from the Call of Duty franchise, in that 34 solo players will be dropped on a dark Kings Canyon, and those who get eliminated will respawn as an undead version of their Legend and join the "Shadow Squad."
Once there are only 10 living players left, the game will spawn an evac ship that they must reach to win the game, while those in the Shadow Squad must try and stop them to clinch the victory.
Exclusive challenges and cosmetic items
As expected, Fight or Fright will give players the chance to unlock a series of exclusive cosmetic items by completing challenges.
There will be eight challenges in total, the final two of which will award two Legendary weapon skins, one for the Devotion, and one for the Alternator.
New Lifeline Heirloom Set
The third Heirloom Set in Apex Legends will be released during the Fight or Fright event, and it will be for the Lifeline.
This ultra-rare collection of items can only be obtained by first unlocking the 24 Collection Pack cosmetics during the course of this event.
The 24 items can be unlocked in one of three ways: via direct purchase, crafting, or Event Apex Packs.
Direct Purchase

Legendaries – 1,800 Apex Coins
Epics – 1,000 Apex Coins

Crafting

Legendaries – 2,400 Crafting Metals
Epics – 800 Crafting Metals

Event Apex Packs
If you are unable to achieve that goal before the conclusion of Fight or Fright, you can still obtain Lifeline's Heirlooms by getting them in a pack after the event, although the chances of that will remain slim.
As for what the Heirloom items look like, Respawn haven't officially unveiled them, but images and details were found by data-miners and leaked ahead of time.
View Respawn's official announcement post below for full details about this event:
---
Hey All,
Leeeeeee-RSPN here with an overview on the Apex Legends Fight or Fright Collection Event.
As a reminder, a Collection Event is just one of the three event types in Apex legends. In addition to introducing an exciting new limited-time mode, we've also made some adjustments to the Fight or Fright Event Limited cosmetics designed to give players more choice on how they obtain these items.
TL;DR – What's in the Event & Key Changes to the Event Structure:
Limited Time Mode – Shadowfall

Featuring a nighttime version of Kings Canyon

Exclusive event challenges with free earnable cosmetics, including Two Legendary Weapon Skins
24 Event Limited premium cosmetics that players can now unlock in one of three ways:

Direct purchase for Apex Coins
Direct unlock with Crafting Metals
Random unlock with Event Apex Packs

Additionally, the Event Currency in these packs has been replaced with non-event loot drops, yielding more loot overall

Lifeline Heirloom Set Preview

Unlock all 24 Fight or Fright pack cosmetics during the event and unlock the Lifeline Heirloom set for free

Double XP for Top 5 & Wins Weekend
Experience Kings Canyon at Night in an All-New Limited Time Mode – Shadowfall
Darkness descends on Kings Canyon in Shadowfall, a warped version of the Apex games hosted by a mysterious figure.
At the start of a match, you and 34 other solo players will drop into an eerily-lit Kings Canyon and fight to the death… with a dark twist. Once you die you will respawn as an undead version of your Legend and join the powerful "Shadow Squad".
As part of the Shadow Squad, you will lose your ability to use weapons and your legend abilities will be stripped, but in return, you will be given increased movement and jump speed, along with a brutal melee attack. You'll also have the ability to scale walls and be given unlimited respawns via skydive.
The battle rages until there are only ten living Legends left, who must then join forces and make it to an evac ship while the Shadow Squad attempts to stop them at all costs.
Complete Event Challenges for Exclusive Fight or Fright Cosmetics, including Two Legendary Weapon Skins
During Fight or Fright, complete a variety of challenges to earn free exclusive skins, badges and music packs.
Event Limited Premium Cosmetics

The Fight or Fright Collection Event brings another set of 24 themed, limited-time cosmetics to Apex. We strive to give players choice in how they can obtain in-game cosmetics, so for this Event we've updated the ways players can unlock these premium Collection Event cosmetics.
All 24 Event-Exclusive Fight or Fright Collection Event items will be available, from day 1, via direct purchase, crafting, and Event Apex Packs.
Direct Purchase
Crafting
Event Apex Packs
We've also removed event currency from the Event Apex Packs and have replaced it with additional loot. This means that players will get more total items in each Event Apex Pack. There are also zero duplicates in these packs. To get further into that spooky spirit, each Fight or Fright Collection Character Skin will also come with 2 themed quips.
Non-Event items can be from the following categories: Weapon Skins, Legend Skins, Legend Finishers, Banner Frames, Banner Poses, Banner Stat Trackers, Intro Quips, Kills Quips or Crafting Metals.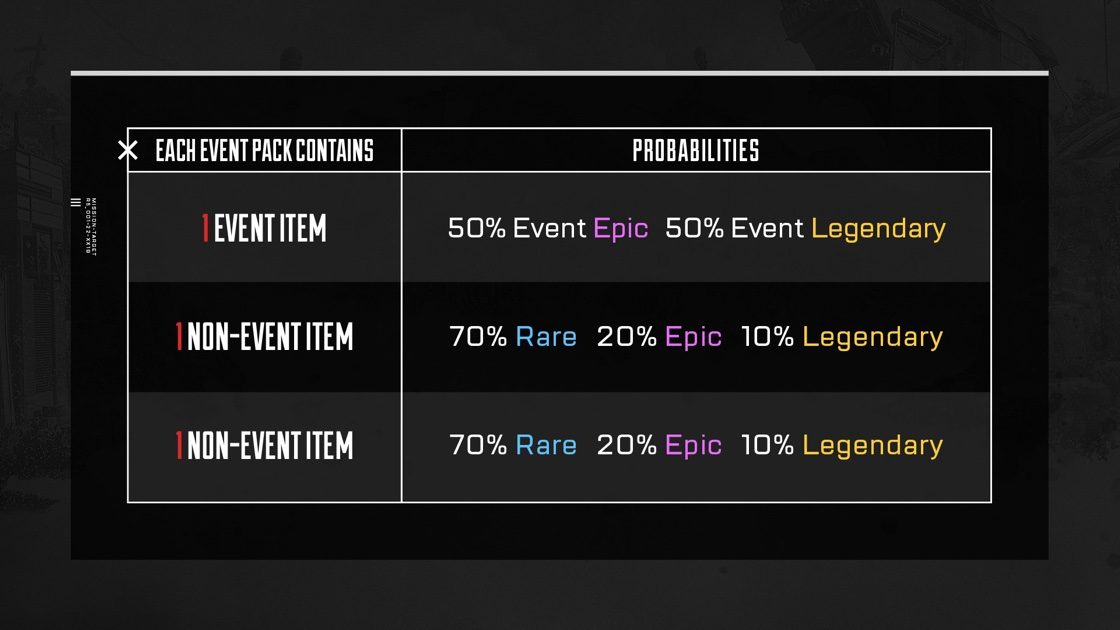 We're also updating the way you unlock the newest Heirloom item during the preview event. If you unlock all 24 Fight of Fright Collection Pack Items during the event, you'll unlock the Lifeline Heirloom set for free. If you don't manage to unlock this new Heirloom set during the event, it will be available as a bonus in Apex Packs after the event ends.
Double Top 5 & Wins XP weekend
From 10am PST on October 25 through 10am PST on October 28 players will earn double XP for Top 5's and Wins all weekend long. This bonus will affect both Account Level and Battle Pass progression.
As always, we appreciate all of your support and feedback. Can't wait to see you on the Frontier!
Leeeeeee-RSPN
FAQ
What is the availability of Event items?

Event challenge badges, cosmetics and music pack – Event Exclusive
24 Fight or Fright cosmetics – Event Limited
Lifeline Heirloom Set – Available for direct unlock during the event preview. Available via Apex Packs after the event ends
Is the Lifeline Heirloom Set available in any pack type during the Fight or Fright Collection Event?
The Lifeline Heirloom Set is only available via direct unlock after completing the Fight or Fright Collection during the Event and cannot be obtained via a Fight or Fright Collection Event pack.
When do Apex Pack openings count towards an Heirloom Set?
Apex Pack openings only count toward the 500 pack Bonus Heirloom Set opening limit when there are eligible Heirloom Sets available in the Apex Pack bonus pool.